Canon G1 X news round-up and a user experience
Ok, let's talk a bit about the Powershot G1 X again. Let us start with DPreview's review of the Powershot G1 X. But first, the basic specifications of the G1 X:
14MP 1.5″ CMOS sensor (18.7 x 14mm)
28-112mm F2.8-5.8 lens
Optical viewfinder
ISO 100-12,800
3.0″, 920,000 dot swivelling LCD
Extensive manual control
14-bit Raw shooting
4.5fps continuous shooting (up to 6 frames)
6.8Wh NB-10L battery rated at 250 shots (CIPA standard)
Ok, duty done! :-) So, what is DPreview basically saying? The Pros: Detail and resolution very good at low sensitivities, excellent high ISO performance, intuitive user interface, excellent build quality, outstanding image stabilization, quality built-in lens, silent shooting, good 3 step noise reduction, good in-camera processing. And then the Cons: slow continuous shooting, somewhat slow AF, limited close focusing capabilities, basic video mode, auto ISO only up to 1600 and battery doesn't last very long. There is one point that's out of discussion: image quality is excellent, and there are some shortcomings (ok, two points). From their conclusion:
Overall, the G1 X is an excellent camera for some but not for everyone. If you are aware of its shortcomings, such as the sluggish AF, limited close-focusing capability or lack of manual control in video, and think you can live with them, the Canon gives you great image quality and a versatile zoom range in a small package and without the need to carry a stack of lenses.

Canon deserves some praise for finally matching the G-series' excellent body and UI design with a large sensor and for launching something genuinely different in the otherwise rather uniform mirrorless and compact camera markets. There is some room for improvement for the 2nd generation of this product but for those photographers who can work around its limitations it can be a powerful photographic tool and therefore earns itself our silver award.
The review can be read here.
Found also an interesting post at Japanese site dcwatch impress (Google translated), with discussion about the parts the Powershot G1 X is made up. Some pics for you…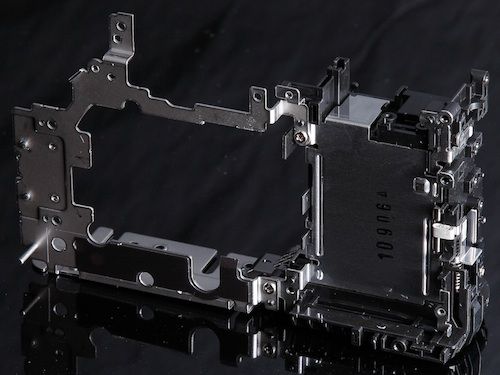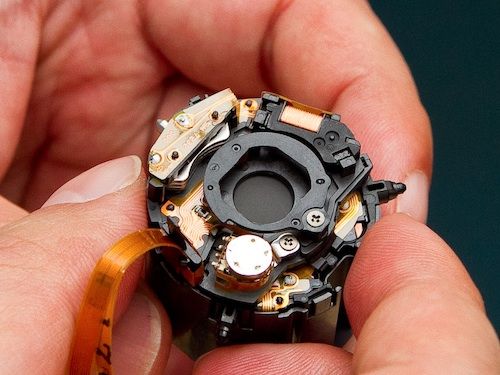 I like user experiences, I mean the reports user write about their gear. Don't you? I do, especially if they are photographers. Photographer Gianni Galassi wrote a short review about his usage of the G1 X in aperture priority mode. Gianni is very satisfied with his new Powershot G1 X, and writes:
What I can say loud and clear is that, thanks to its larger-than-Micro-Four-Thirds and slightly-smaller-than-APS-C sensor, as well as to its Digic 5 processor, the Canon G1X delivers, and delivers a lot. […] I already know that I will seldom need to turn to the .cr2 files when processing my photographs. The stunning jpg image quality of the G1X is practically consistent up to ISO 1600, with no visible noise, rich details and smooth transitions. IMHO the lens/sensor/processor pipeline of the G1X does more than outperform the G series' IQ as we all knew it until now: it sets a higher, new standard, which can be compared to the best current Micro Four Thirds and APS cameras. All this in an almost-compact package which is just a little larger than the previous G models, and weighs a little more than 1,1 lbs. (535 grs.), battery and card included. Bravo, Canon! Many reviewers pointed out the slowness of the G1X focusing system. As a matter of fact this is not what I would call a "fast" camera. But its autofocus is hardly slower than, for instance, the Fuji X100's[…]. And its pin sharp. As for manual focus, the lack of a true mechanical focusing ring on the lens makes it the usual joke: simply forget it.
Yeah, the slow AF system is probably the main drawback of the Powershot G1 X. But without any doubt you can shot great photos with Canon's new Powershot cam, as the following image shot by Gianni Galassi shows.
Not bad, eh?
The Powershot G1 X may not be a perfect camera (but then: does perfect gear exist?). It's a great camera for travel and outdoor shots. It's a great cam if you do not want to hassle with lens and want a compact, all-in-one solution that performs very good. It's a great cam if you want manual controls, are creative, like to play around with RAW files, want good ISO performance. In short: It is right for you if you want most of the advantages a DSLR would give you, without the drawbacks like weight, size etc. It is probably not the right camera if you are earning your living by shooting macros, or have more professional needs. For all the rest of us Canon provided a great little cam with outstanding IQ and overall performance. Sure, there are some things that need to be tweaked, that's right, but most of us (those who are looking at a cam in this league) will be more than satisfied with this little gem. At the end, the quality (both technical and artistic) of your photos depends by your skills and experience. Great pics can be shot with a "simple" camera, and death-boring shots can be produced using a >$7000 super-professional-does-it-all camera. It's up to you. I shot the following pic years ago in Patagonia, Argentina, using a 3MP Canon Ixus (yes: 3MP compact obsolete camera no one would ever use to shot such a great landscape). It's still one of my favorite pics.

We all know: it's not about the gear, it is about your imagination (even if life isn't always that straightforward).
That's all for now. Don't forget to check the latest G1 X pictures uploaded to Flickr, and the eBay live-ticker for possible deals – click here to see them both. It's always good to see pics shot by people out there (studio samples can get sooo boring :-) ).
Automatic Powershot G1 X price check: B&H Photo, Adorama, Amazon USA, Amazon Canada, Canon Canada, Canon USA
Have a nice day, or night… :-)
World-wide price check:

America: B&H Photo, Adorama, Amazon USA, Amazon Canada, Canon Canada, Canon USA
Europe & UK: Amazon DE, Amazon UK, Amazon IT, Canon IT, WEX Photographic, Canon FR, Canon UK, Canon DE