Canon EOS 5D Mark III vs Nikon D800, and the winner is…
…Canon's EOS 5D Mark III!!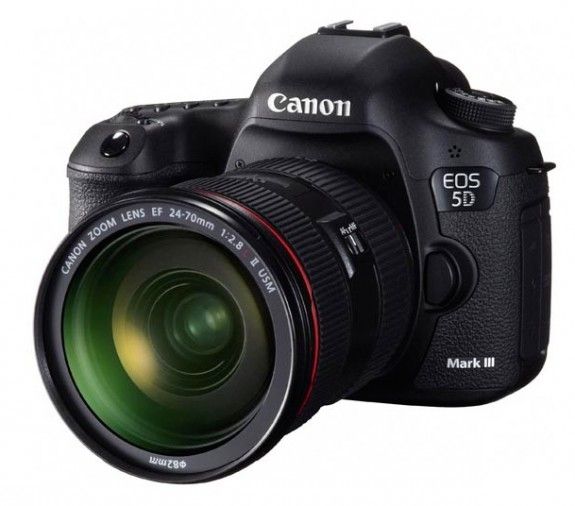 I compared tech specs of both cameras, and there is not much to investigate. The advantages of the EOS 5D Mark over Nikon's D800 are evident
Light sensitivity: 25,600 vs 6,400 (2 f-stops more)
Auto Focus: more advanced (most advanced in this price category, and more cross-type focus points (41 vs 15, grabs focus in difficult situation where the D800 can't)
Overall Auto Focus points: 61 vs 51 (more accuracy)
LCD screen: bigger, higher resolution (1,040k dots vs 921k dots, that's 10% more)
ISO boost: 2 f-stops better (50-102,400 vs 100-25,600)
Shooting speed: 6 fps vs 4 fps (50% faster than the D800)
Video: more modes

Canon: 1920×1080 at 30/ 25/ 24 fps, 1280×720 at 60/ 50 fps and 640×480 at 30/ 25 fps
Nikon: 1920×1080 at 30/ 24 fps and 1280×720 at 60/ 30/ 24 fps

Video #2: NTSC or PAL
Video formats: MPEG-4 and H.264 vs H.264 only
Supported cards:

Canon: CompactFlash (CF Type I), CompactFlash (CF Type II), SD, SDHC, SDXC
Nikon: CompactFlash (CF Type I), SD, SDHC, SDXC

Connections:

Canon: Proprietary, Accessory shoe, USB, HDMI, 3.5mm stereo audio, Flash Sync
Nikon: USB, HDMI mini, 3.5mm stereo audio

Size: 5D Mark III thinner (3″ vs 3.2″, 10%) and smaller (152x116x76mm vs 146x123x82mm, 10%)
EOS system family: more lenses
Now let's see where Nikon's D800 shines out:
Higher resolution (36.2 vs 22.1, more detail – but comes with the cost of worse ISO performance, shooting speed)
Built-in flash
Price tag: $2,999 vs 3,499 (approx. 14% less)
Weight: 900g vs 950g (10% lighter)
Sorry Nikon fanboys, but there is really nothing that makes the D800 more attractive. Ok, 36MP give you more details and resolution, but the costs are too high for me. Having good low light performance, 6 fps, an exceptional Auto-Focus system – with 41 high precision cross-type points vs the 15 of the D800 – are all things I prefer and consider more relevant. I am not a fan of high resolution sensors. At least not if I have to miss what I would call "rock-solid" performance. The EOS 5D Mark III simply outperforms Nikon's D800 for everything that really counts. Again: sorry Nikon, but there is no competition.
Even
Nikon shooters are enthusiastic
about Canon's EOS 5D Mark III. Take wedding photographer 
Ryan Brenizer
, which used an EOS 5D Mark III for a wedding shooting sessions and was truly satisfied by it. He writes:
So why am I so excited about the Canon 5D Mark III? On the surface, it seems like an incremental upgrade. […] I'm excited because for the first time at semi-affordable rates, Canon users can combine the most comprehensive DSLR lens line-up with a full-frame camera that has no major drawbacks.
Indeed, the advanced autofocus is one of the most acclaimed features/tweaks of the EOS 5D Mark III. On the 5D Mark II it was not on a level professionals photographer wanted. Brenizers says:
Has Canon finally fixed the autofocus in the 5D line? In a word? Abso-freaking-lutely. The autofocus is accurate, fast, and a pleasure to use — in some ways moreso than the Nikon D3s. I immediately turned off all sensors except the extra-sensitive cross-type sensors — and still had 41 left! Combined with the joystick, I never have to play the focus and recompose game very much unless I want my point of focus to be at the very edge of the frame. And even then I can get it close enough to not compromise the accuracy of my focal plane, which can matter when you're shooting with a lens like the 50mm f/1.2L
Then, there are the video capabilities of the EOS 5D Mark III, which are simply great (imho). Have a look at the following two videos Not only the 5D Mark III video looks warmer and has more vibrant colors, but things almost pop-out, it gives an overall more cinema-like experience.
EOS 5D Mark III

Nikon D800

Another comparison 5D Mark III vs D800

Even Kai W of DigitalRev, a self-proclaimed Nikon fanboy, says he "would buy the EOS 5D Mark III". See his 15min comparison between the EOS 5D Mark III and Nikon's D800. The cameras are compared both for video and still performance.

Kai has also a (new) 16min hands-on video about the EOS 5D Mark III, a good review of the features and highlights of the EOS 5D Mark III.

Want to see the latest pics made with a EOS 5D Mark III uploaded to Flickr and to check our live-ticker for possible deals? Yes? Then click here.
World-wide EOS 5D Mark III price check: B&H Photo, Adorama, Amazon USA, Amazon Canada, Canon Canada, Canon USA
This shops all have the 5D Mark III in stock and ready for shipping, some offer various kit combinations:
Have a nice day, or night… :-)