EOS 5D Mark III best DSLR for shooting video (says Gizmodo)
I totally agree with gizmodo, and I add: the EOS 5D Mark III is kicking the Nikon's D800 in the back. :-)
It may be that Nikon's D800 is selling better than Canon's EOS 5D Mark III (as lots of blogs report), but no camera is getting that much attention by film-makers as the 5D Mark III. And that's not wondering: Canon's new FF flagship is an outstanding cam, not only for stills, but also for video. It was the former model, the EOS 5D Mark II, that started to be a valid alternative for indie film-makers. Cheap(er) alternative to the much more expensive gear you had to chose from (read Sony, Panavision, RED). While being thought (and touted) as a camera for still photography, the 5D Mark II rapidly became a film-makers darling. Not only for indie movie-makers: the 5D Mark II was used to shot shows like House and Saturday Night Special, and to shot the action scenes in Captain America. This happened not just because of the surprising video-capabilities of the 5D Mark II, but also because you had access to Canon's rich and extensive offer of lens for the EOS system. Now we have the 5D Mark III, and the story gets into a new chapter. Read on after the break.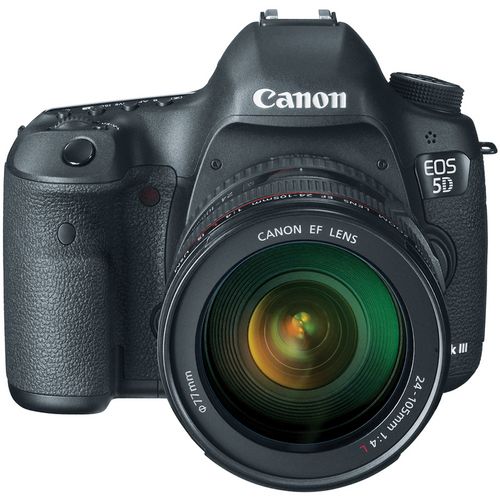 UPDATE: there is a quick comparison between Canon's EOS 5D Mark III and Nikon's D800 in another post at gizmodo.
Let me start with Gizmodo's conclusion.
What Gizmodo liked
First and foremost, the 5D Mark III takes beautiful photos, and improves on a camera that was already fantastic. The small changes on its body make the Mark III even more comfortable to use, while the tweaks made to button placement and the layout of its controls are logical improvements that anyone will appreciate. People who have put in serious time with the Mark II, however, are going to be giddy.

While the Mark III's sensor only provides a slight bump in resolution, it's a completely new design that vastly improves the camera's low-light capabilities. It really does let you push the camera's ISO to 3200—and even higher—without suffering unusable amounts of grainy noise.
…and what they did not like
Given how popular the 5D Mark II became in the videography community, we'd have liked to have seen the Mark III's video capabilities improved a bit more. The addition of a dedicated XLR microphone jack is probably a pipe dream, but a 60P mode at 1920×1080 for capturing high-speed footage in full HD would most certainly have been appreciated. While the new video compression codec options make editing and post-processing footage a little easier, the camera is still lacking a way to get an uncompressed HD signal out of the camera. That capability alone would have made the 5D Mark III a must-have.
Well, let's call it "room for improvement" :-) Though, I don't think not having an uncompressed HD signal out of the box is a major issue. You can use it for monitoring, and given the very good quality of the footage you can live without it. More important: You can do a basic yet semi-professional audio workflow through manually controllable audio-in and headphone-out ports.
So what is better in the EOS 5D Mark III from a HDSRL point of view? My thoughts…
Moiré and aliasing
This was not that good on the 5D Mark II. On The Mark III this problem has been reduced to such a degree it is no longer a problem. Look at the following videos for a moiré comparison between Mark III and Mark II:
Moiré test 1

Moiré test 2:


Rolling shutter
Has also been greatly reduced. No longer an issue says people using the 5D Mark III for film-making. In particular: it is no longer a problem in extreme hand-held situation. I had a post about that a few days ago. The rolling shutter effect has not been cancelled – it has been reduced. To see a video about this issue (comparison between Mark III and Mark II) click here.
Video Codec
i-frame compression, high bitrate, embedded timecode, Technicolor CineStyle – all you need to get professional and safe footage. Next video compares ALL-I and IPB codecs.
ALL-I vs IPB codec

High ISO perfomance
That's where the EOS 5D Mark III really stands out, and totally outperforms Nikon's D800. ISO performance is, simply speaking, absolutely great. Watch the next three videos to judge for yourself.
High ISO test 1

High ISO test 2

High ISO test 3


Audio
Manually controlled audio-in and headphone out ports. Basic yet semi-professional audio workflow through manually controllable audio-in and headphone-out ports.
My conclusion
No gear is perfect, and everyones needs are different. Nevertheless, Canon's EOS 5D Mark III delivers a spectacular performance, both for stills and video. But it's the latter that's getting film-makers really excited. The 5D Mark III is almost the perfect gear for independent film-makers (i.e. film-makers on a budget), who can access features that have been available before only in much more expensive equipment. And there is one more thing: there is no other cam in this price class that can give you more for your video-making purposes. For sure not the Nikon's D800.
Finally, the following two videos sum up and compare all the points we discussed in this post.
First round-up

Second round-up

Btw, the EOS 5D Mark II is getting cheaper each day. Check the following, serious shops on eBay for possible deals:
peach_photo (ebay top rated seller) –
photovideo4les (ebay top rated seller) –
electronicsvalley with huge gift pack (2 lenses, filter set, 20G memory cards, tripods, 2 big bag, and more stuff – ebay top rated seller) –
Want to see the latest pics uploaded to Flickr and to check our live-ticker for possible deals? Click here for the 5D Mark III, and click here for the 5D Mark II.
World-wide EOS 5D Mark III price check: B&H Photo, Adorama, Amazon USA, Amazon Canada, Canon Canada, Canon USA World-wide EOS 5D Mark II price check: B&H Photo, Adorama, Amazon USA, Amazon Canada, Canon Canada, Canon USA
This shops all have the 5D Mark III in stock and ready for shipping, some offer various kit combinations:
Have a nice day, or night… :-)