Canon DSLR Bundles And Lens Rebates Program Starts Again (save up to $500, expires 4/27)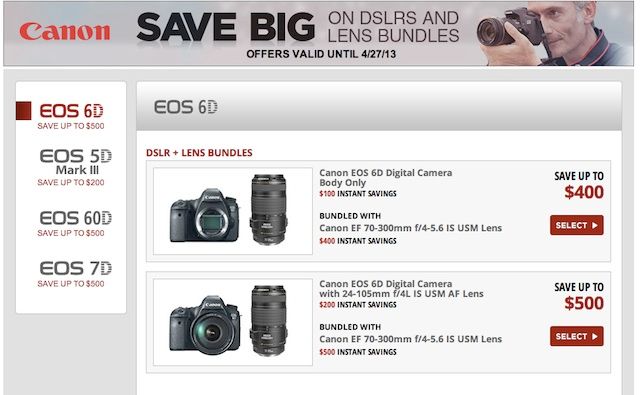 The Canon DSLR and lens bundles and lens rebates program started again at B&H. The savings for the DSLR and lens bundles go up to $500 (click here to see all offered bundles!! The Canon EOS 6D, EOS 5D Mark III, EOS 60D and EOS 7D are part of the discount program. And there are lotsa lenses with instant savings up to $300 (click here). Not bad, isn't it? Check out all lenses in the program clicking here. Or see the pics below.
Amazon is also offering a sort of rebates program. You save up to $300 on a purchase of a EF 70-300mm f/4-5.6 IS USM with either a Canon EOS 7D, EOS 6D or EOS 60D. Click here to check the details and to learn how it works. The discount will be applied at checkout.