Canon Macro Twin Lite MT-26EX-RT Review (Photography Blog)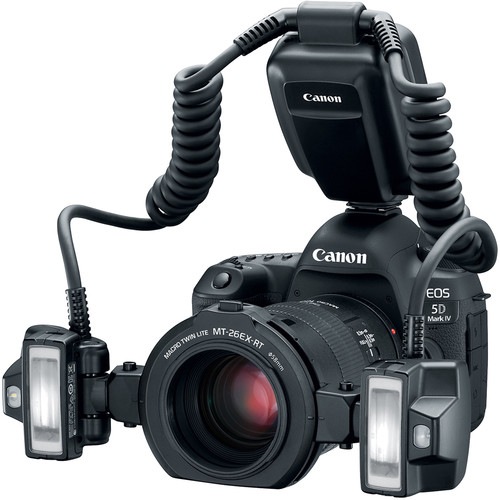 Canon Macro Twin Lite MT-26EX-RT at a glance:
2.4 GHz Wireless Radio Transmission
Compatible with Canon E-TTL / E-TTL II
Guide Number: 85.3′ at ISO 100
Detachable Heads with 60° Rotation
Manual Power Control from 1/1 to 1/512
LED Focusing Lamps
Recycle Time: 0.1-5.5 Seconds
High-Speed Sync Support
Runs on 4 AA Batteries
Removable Diffusers Included
Photography Blog posted their review of the Canon Macro Twin Lite MT-26EX-RT flash, a specialised piece of gear that isn't really inexpensive.
From their conclusion:
The Canon Macro Twin Lite MT-26EX-RT is by no means a cheap piece of equipment, but it is intended as specialist kit for professional photographers who specifically need this kind of approach to flash photography.

While it's true that you can use standard flashguns for macro work, the flexibility here to not only get close to your subject, but to position the two smaller lights in different locations means that you can illuminate your close-subjects exactly how you want them.

Particularly appealing to product photographers, the Macro Twin Lite MT-26 EX RT also has good uses for those who like to photograph flowers or small insects – the fact that the flash has a quick recharge time is particularly useful for quickly capturing subjects that are prone to move between frames. Read the review.
Canon Macro Twin Lite MT-26EX-RT: B&H Photo | Adorama | Amazon (worldwide)