Canon Patent Application for 360 degree camera with 8 zoom lenses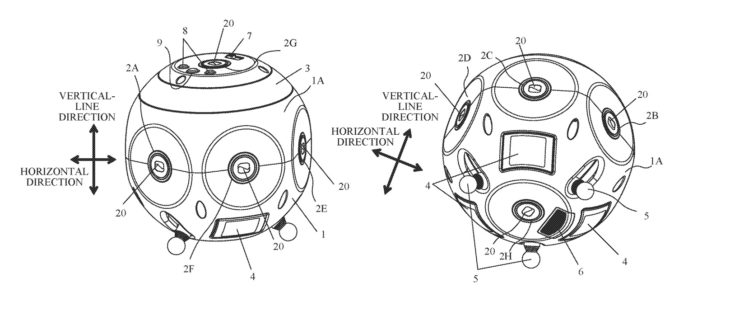 LetsGoDigital spotted a rather interesting patent.
The patent literature describes a professional spherical camera system, consisting of multiple cameras that can capture 360 degree images and panorama images.
The eight cameras (one at the bottom and at the top and six divided over the middle axis) are continuously connected to each other. Each camera can zoom individually. They are configured in such a way that the field angle overlap each other, which benefits the stitching process.
As soon as the camera system is switched off again, the eight lens barrels will be closed automatically, so that they remain protected against external influences. A power switch is positioned on the top of the device, as well as a shutter release button and two zoom buttons. The zoom buttons can control one or more cameras at the same time. It is also possible to remotely operate the system via a PC or smartphone.
The Canon 360-degree camera comes with three built-in tripod legs, which can be adjusted individually both in length and angle. In addition, three movable illumination units are installed on the camera system. The battery compartment is located in the lower part of the camera.
LetsGoDigital
]