Canon Patent for 100x Zoom Compact Camera (24-2400mm equivalent)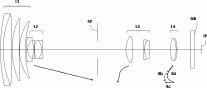 Will this patent (spotted by Egami) ever hit the market? If it does it will probably yield a new Powershot camera with a wobbling 100x zoom. The patent refers to a 1/2.3″ sensor and an equivalent focal length of 24-2400mm.
Patent Publication No. 2014-174524

Published 2014.9.22

Filing date 2013.3.13

Example 4

Zoom ratio 98.52

The focal length f = 3.07 53.41 302.40mm

Fno. 1.85 8.14 9.00

Half angle ω = 36.2 2.40 0.50 °

Overall length of the lens 110.05mm

BF 12.67 27.40 5.19mm

4-group zoom of positive and negative, positive

Inner zoom (the second group, the third group)

Rear focus (fourth group)

Anti-vibration (third group)
Do you think Canon will produce a Powershot with a 100x zoom anytime soon?