Canon patent for Electronic Tilt-Shift Adapter for EOS M system?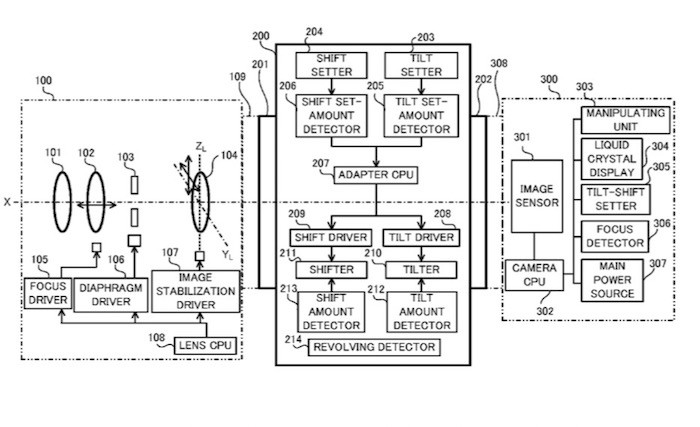 Photography Bay spotted a Canon patent that refers to an electronic Tilt-Shift adapter. While Photography Bay suggests the adapter will work with any EF lens, a lot in the patent description appears to point to a mirrorless camera instead.
The adapter in the patent has no optics, but its own CPU and electronics to help the purpose:
[…] it works hand-in-hand with the Canon EOS body and EF lenses to not only serve as a pass-through for communication but to also take on some processing burdens to make tilt-shift work on different cameras and lenses. Additionally, there are motorized drivers inside of the adapter that can drive the shift and tilt axes using controls on the camera (or the adapter itself)
Photography Bay did a great job in breaking down the complex patent literature. However, I think they missed something. As another site, Every Other Shot, points out, the images in the patent all depict a small camera body, very similar to a mirrorless camera. Moreover, it is claimed, the electronics described in the patent seem to allow to drive the tilt and the shift via a touch screen. Finally, there is a tripod mount on the adapter. This makes sense if the adapter is mounted on a small and light camera body, like a mirrorless camera.
Such adaptors already exist. Kipon, for instance, makes adapters to convert manual lensed to work as tilt-shift lenses on the EOS M. You can download the patent description here. What do you think, is this adapter exclusively for EOS M systems, or will it work with every EF lens and on a DSLR?
[via
Photography Bay
|
Every Other Shot
)