Canon Patent For Two New Fluorite Treated Lenses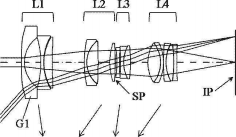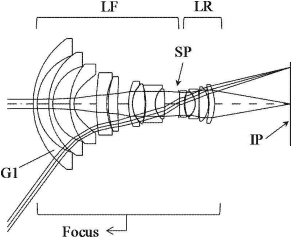 Egami (translated) spotted a patent referring to two new lenses, a 14mm f/2.8 and a 17-35mm f/2.8-4, both with fluorite treatment. According to WIkipedia…:
Fluorite (also called fluorspar) is a halide mineral composed of calcium fluoride, CaF2. It is an isometric mineral with a cubic habit, though octahedral and more complex isometric forms are not uncommon. Crystal twinning is common and adds complexity to the observed crystal habits.

[…]

Optically clear transparent fluorite lenses have low dispersion, so lenses made from it exhibit less chromatic aberration, making them valuable in microscopes and telescopes. Fluorite optics are also usable in the far-ultraviolet range where conventional glasses are too absorbent for use.
Click here to see a Canon video about fluorite and lenses.
The patent:
Patent Publication No. 2013-37339

2013.2.21 Release Date
Filing date 2011.7.12

Example 1

Zoom ratio 1.00
Focal length f = 1.00mm
Fno. 2.90
Half angle of view ω = 56.66 °
Image height Y = 1.52mm
9.51mm length lens
BF 2.82mm
6 aspherical surfaces, the first surface 25
Punctually

Example 3

Zoom ratio 2.06
2.06mm – f = 1.00 focal length
Fno 2.79 -. 4.00
Half angle of view ω = 51.27 – 32.82 °
1.33mm – Y = 1.25 image height
8.55mm – 8.79 length lens
BF 2.41 – 3.46mm
Aspheric first surface, the fifth surface, the first surface 26
Positive and negative positive negative

Example 6

Zoom ratio 1.00
Focal length f = 1.00mm
Fno. 2.90
Half angle of view ω = 87.35 °
Image height Y = 21.60mm
9.51mm length lens
BF 2.82mm
6 aspherical surfaces, the first surface 25
Punctually