Canon patent for videocamera with compound eye-like lens and light-field technology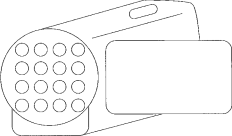 Canon filed a patent for what appears to be a Lytro-like technology. The patent refers to a "compound eye" lens, i.e. an optic element with several lenses, each having a different focal distance. Such a device is capable of refocusing images after being taken.
This is called Light-field photography, and Wikipedia has a definition for it:
A light field camera (also known as plenoptic camera) captures information about the intensity of light in a scene, and also captures information about the direction that the light rays are traveling in space. One type of light field camera uses an array of micro-lenses placed in front of an otherwise conventional image sensor; to sense intensity, color, and directional information.
Light-field photography is part of computational photography, and again we have a good definition:
Computational photography or computational imaging refers to digital image capture and processing techniques that use digital computation instead of optical processes. Computational photography can improve the capabilities of a camera, or introduce features that were not possible at all with film based photography, or reduce the cost or reduce the size of camera elements. […] Light field cameras use novel optical elements to capture three dimensional scene information which can then be used to produce 3D images, enhanced of depth-of-field, and selective de-focusing (or "post focus"). Enhanced depth-of-field reduces the need for mechanical focusing systems
However, the patent refers to a video camera. This makes everything more interesting. I couldn't find any reference to a sensor technology in the patent description. I wonder if this is going to feature a new sensor technology. I am not an expert in this domain, so any help is welcome.
Patent Publication No. 2015-122677

Published 2015.7.2

Filing date 2013.12.25

Canon patents

a plurality of lenses that focus processing is different

Sequentially performs the subject detection to the focal length is long order
The patent was spotted by Egami (translation).