Canon patent for EF 24-300mm f/3.5-5.6 lens for full-frame DSLR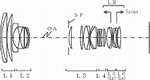 Canon patent for a EF 24-300mm f/3.5-5.6 USM lens for full-frame sensors. The patent description doesn't mention image stabilisation (IS), so it's unlikely this will be the replacement for the Canon EF 28-300mm f/3.5-5.6L IS (announced 2001).
As usual, a filed patent doesn't mean the described gear will necessarily hit the market. On the other hand, this may just be a patent on the way to the replacement for the 28-300mm f/3.5-5.6, and we could soon see another patent for a similar optical formula and with added IS.
Patent Publication No. 2015-215438

Published 2015.12.3

Filing date 2014.5.9

Example

Focal length 24.70 101.33 292.01

Fno 3.50 4.59 5.87

ω (degrees) 41.22 12.05 4.24

Image height 21.64 21.64 21.64

Overall length of the lens 202.71 232.50 288.71

BF 38.78 43.69 75.66

[via
Egami
]