Canon Patent For Foveon Sensor With Anti-Reflection Film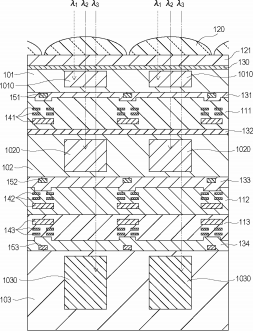 Egami (translated) spotted another highly interesting patent filed by Canon. The patent refers to a 3 layer, Foveon-like sensor with an insulator film applied. The film helps reduce reflection and flares.Very interesting patent, and not the first of this kind we report about, similar patents showed up in the past (here and here).
This is the third Canon patent about a Foveon-like sensor I am featuring here on CW. I think to start that such a sensor technology is definitely on Canon's plans.
Patent Publication No. 2014-130890

Publication date 2014.7.10
Filing date 2012.12.28

Multilayer sensor drawback of

G is light, the image quality is degraded and reflected by the surface of the layer between the G and B layer, re-enters the B layer

Canon patents

The provision of the dielectric film and the insulating film as an anti-reflection film
First insulating layer, B layer, a dielectric film, insulating film, dielectric film, G layer, a dielectric film, insulating film, insulating film, dielectric film, the R layer
By increasing the thickness of the dielectric film, to suppress the multiple reflection
The dielectric film is between the G layer and B layer, the reflectance with respect to G is lower than B