Canon patent for stacked sensor design (AF and image data off the sensor)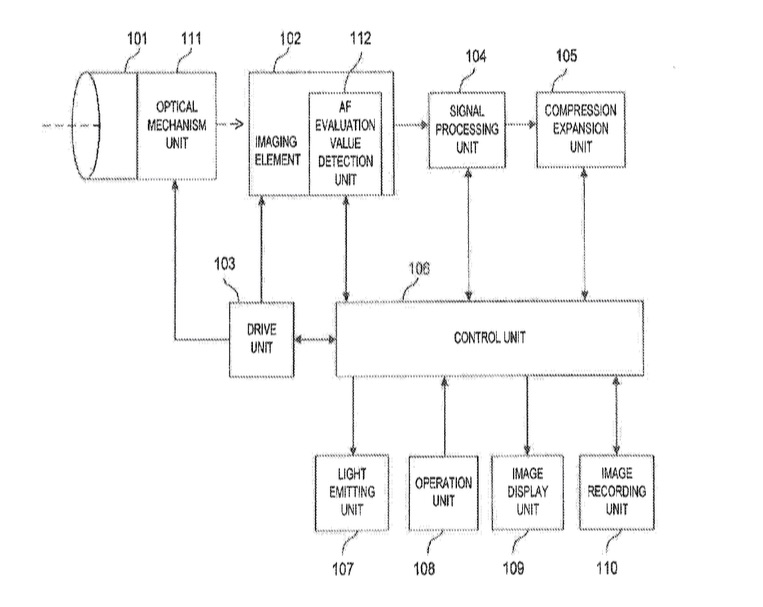 Canon patent application US20170366776 describes several stacked sensor designs.
The patent focuses on separating auto-focus and image data pipelines from the chip on the image sensor. Such a design has several advantages: less bandwidth to transfer data from the sensor, which leads to more speed and reduced power consumption (hence also less heat).
The patent abstract:
An imaging element having a layered structure including a first chip having a pixel portion in which pixels for photoelectrically converting an optical image of an object and generating a pixel signal are arranged two-dimensionally and a second chip in which a drive means of the pixel portion is arranged, and having a first output path to output the pixel signals of at least a first pixel group in the pixel portion and a second output path to output the pixel signals of a second pixel group, comprises the a conversion means for converting the pixel signals of the first and second output paths into digital signals and a control information generation means for generating control information of a photographing operation of the object by using the digital signal converted by the conversion means, wherein at least a part of the conversion means is arranged in the first chip.
Please note that patent applications do not mean a company will implement the described technology any time soon. Indeed, most patents never make it into production. An example of a Canon patent describing a technology that might be featured on a future Canon DSLR can be seen here, another one here.