Are the Canon PowerShot G7 X Mark III images a fake? Tell us what you think (poll) – UPDATE: it's a fake!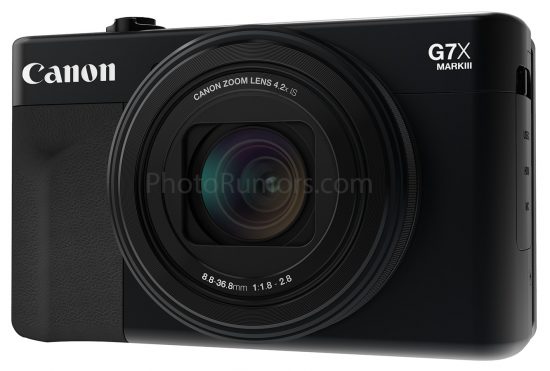 UPDATE: it's now safe to assume the images of the Powershot G7X Mark III are fake. A well made one. The images you see on the display have been taken from Unsplash. One was taken with a Canon Rebel T6,  the other with a DMC-GX85.
Not the first time a well elaborate prank fools the rumor community.
Original post:
Yesterday three pictures of what appears to be the Canon PowerShot G7 X Mark III leaked on the web.
Since then some voices raised doubts about the legitimacy of the images. It's a common issue when images of upcoming cameras leak ahead of the official announcement.
We can yet not confirm if these images are real, or some elaborate CGI work. From the images you can learn some basic specs. The (supposedly) Canon PowerShot G7 X Mark III has an 1″ image sensor, USB-C connectivity, a microphone jack (!), HDMI output, and a hot shoe. Not bad for such a small camera.
And then this 4K thing, which seems almost to be too good to be true. However, among the murmurings raising on the web, there is pretty good analysis by Canon News about what may indeed raise your eyebrows.
Powershot is not mentioned anywhere on the camera. Every PowerShot shot has PowerShot written on it somewhere
There's no microphone holes
The top dial doesn't have EC on it, which means that canon is actually removing the EC dial from the G7 X Mark III.
There's no flash switch to pop out the flash (even though looking from the top it appears like it has a flash)
The buttons don't look "canon-like".  The icons don't match canon "standard icons".
There's no record button.
There's no click / smooth button for the dial around the lens.
The video images show 120 minutes and 60 minutes which would classify this as a video camera and not a stills camera for European import taxation. This won't happen.
There's no sensor on the front of the camera for the infrared remote trigger. Every Canon has that.
no PASM dial
No quick menu / SET button
There are some good points in the list above. I noticed the not Canon-like buttons, and that there is no "PowerShot" mentioned. This is either a bold move by Canon, or a well made fake. See for yourself (images via Photo Rumors):
It wouldn't be the first time that rumor sites get fooled by some elaborate prank. What do you think? We are not sure yet.
Are the leaked Canon PowerShot G7 X Mark III images a fake?
Yes (87%, 241 Votes)
No (13%, 35 Votes)
Total Voters: 276

Loading ...
There is definitely new gear coming from Canon ahead of CP+ (starting March 1, 2018). We listed here what we expect Canon to announce in the next weeks. Stay tuned.