Canon RF 15-35mm f/2.8L IS Review (great AF & image quality, D. Abbott)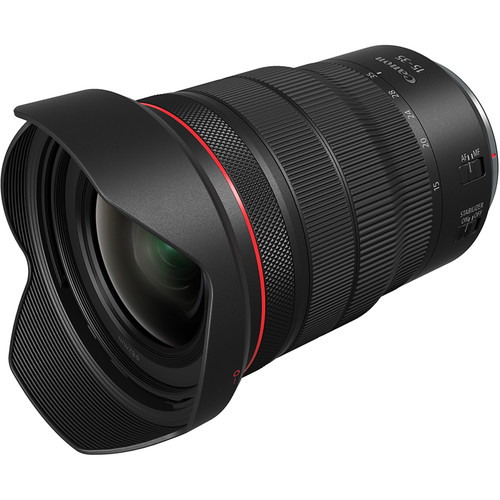 Here is a Canon RF 15-35mm f/2.8L IS review, the wide-angle member of the holy trinity of f/2.8 lenses.
Dustin Abbott posted his full Canon RF 15-35mm f/2.8L IS review. From his conclusion:
Canon has managed to increase the functionality of their "last generation" wide angle zooms by increasing the zoom range and giving both a wide maximum aperture and image stabilization all in one package. They impressively did this while managing to retain the ability to use traditional screw-in filters, which makes the lens more accessible and easier to use.

A lens like the RF15-35L makes it easy to get beautiful landscapes or dramatic wedding shots, though it is a lens designed around professionals.  It's large and heavy, and thus requires that extra level of commitment to use.

It isn't a perfect lens.  It is expensive ($2299 USD), which will be the chief obstacle to many potentially interested customers.  It has an obscene amount of vignette and a fair amount of distortion at 15mm.  But it has great autofocus, an excellent image stabilizer, and delivers sharp images with good color and contrast.  I doubt many will be put off by its performance, but there may be a few that are unwilling or unable to pay the price of entry.  That leaves room for Canon to do what it is has always done, though, and give us an F4 alternative at about 60% of the price.  But if you want it all, the Canon RF 15-35mm F2.8L IS USM is the wide angle zoom to get.

Read the review at DustinAbbott.net
As usual the review comes with a huge set of sample pictures, comparison charts, and all the information you might want to know. And for those who prefer to watch their reviews, Dustin Abbott provides a comprehensive video-review. Dustin's reviews are what I look for when I am about to purchase new gear.
Canon RF 15-35mm f/2.8L IS:
America: B&H Photo, Adorama, Amazon USA, Amazon Canada, Canon Canada, Canon USA
Europe & UK: Amazon DE, Amazon UK, Amazon IT, Canon IT, WEX Photographic, Canon FR, Canon UK, Canon DE