COSYSPEED announce CAMSLINGER Streetomatic+, the fastest camera bag of the world now takes a DSLR too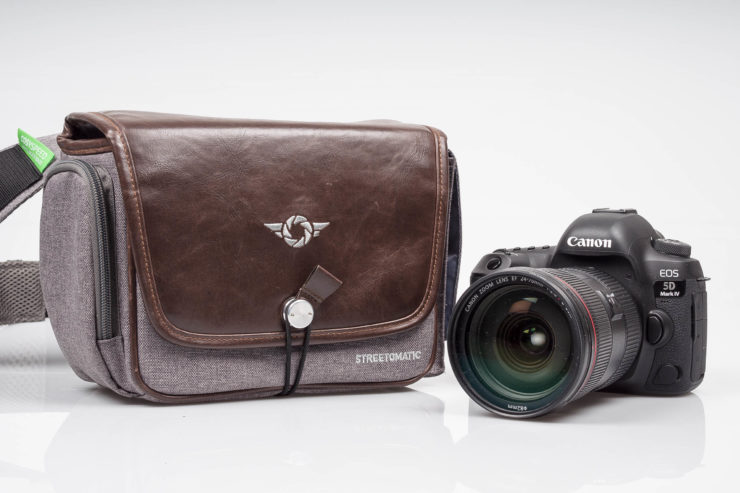 Our friends at COSYSPEED just announced a new edition of their successful Camslinger bags, the CAMSLINGER Streetomatic+. The Streetomatic+ is larger than previous models and now can comfortably take a DSLR. An EOS 5D Mark IV with a 24-70mm lens isn't a problem for the Streetomatic+.
The The CAMSLINGER Streetomatic+ is priced 129.99 $US (excl. VAT) / 129,99 € (Incl. VAT). The CAMSLINGER Streetomatic+ is available in the US and Canada at www.cosyspeedshop.com and in the rest of the world at www.cosyspeedshop.de. In the USA COSYSPEED products are also available at B&H.
[Thanks George]
Press release:
The new CAMSLINGER
More space & chic for your Mirrorless or DSLR
German camera gear brand COSYSPEED introduces the new CAMSLINGER Streetomatic+ camera bag for Mirrorless Cameras and DSLRs. Originaly the CAMSLINGER was designed for Mirrorless Cameras exclusive, but many photographers were demanding a CAMSLINGER for their beloved DSLR. The CAMSLINGER Streetomatic+ is big enough to even fit a DSLR like Canons 5D series. It is super Quick, super Safe and super Comfy. You can wear it at the hip or over your shoulder.
The FASTEST camera bag of the world
The CAMSLINGER 
Streetomatic+
 provi
des quick, one-handed access to your camera. This 1-hand/1-second concept is unique. The quick access, comfy way of wearing and the safety against rain and bumps makes the CAMSLINGER Streetomatic the perfect bag for 
street
 and travel photographers. Put in what you need for a hike or day on the streets – a cam and one or two lenses, spare batteries, your phone – and just hit the trail or city.
No animals have to die for a CAMSLINGER 
Streetomatic+
The CAMSLINGER 
Streetomatic+
 is made from premium materials, such as the robust and chic Duo-Tone-NYLON 600D. The flap is made from a high tech veggie leather, which is also used in car industry. It is durable, water resist and easy to clean.
New magnetic FIDLOCK closure
Together with German magnetic fastener specialist FIDLOCK (
www.fidlock.com
) COSYSPEED developped a new and smart closure to securely close the CAMSLINGER 
Streetomatic+
. At the same time the quick, one-handed access has become even quicker. Slide the buckle to he right side and open the flap. It closes simply by snapping in the magnet and is locked in place.
For what gear is a CAMSLINGER 

Streetomatic+

?
Mirrorless Cameras
DSLRs
Superzooms
Lenses (when using a sling strap for your cam)
Travel Stuff
Specifications
Inner Dimensions:
155 mm (6.1″) high x 205 mm (8.1″) wide x 90 mm to 115 mm (3.5″ to 4.5″) depth due to flexible back
Phonebag: 155 mm (6.1") high x 90 mm (3.5") wide x 12 mm (0.5") depth
Adjustable belt from 750 mm (30″) to 1,250 mm (50″) and expandable up to 1,650 mm (65″) with included Beltextension 40
Colors Brown/Grey
In the box
CAMSLINGER 

Streetomatic+

Raincover
BELTEXTENSION 40
FINGERCAMSTRAP 10
4 compartment deviders
Cotton bag
Pricing
The CAMSLINGER 
Streetomatic+
 is priced 129.99 $US (excl. VAT) / 129,99 € (Incl. VAT)
Availability
About COSYSPEED
Cosyspeed GmbH from Edertal/Germany is the first company in the world that specialises exclusively in accessories for mirrorless cameras (or Compact System Camera, CSC). All products are developed in Germany and are subject to strict German quality criteria. Production is carried out in Germany, Europe, Asia and Africa. Focusing on convenient and functional accessories for the daily routine of photographers using compact mirrorless cameras, Cosyspeed is concentrating deliberately on the new technology of the future in the area of digital cameras. Furthermore Cosyspeed is supporting development aid projects, such as the CAMPILLOW in Burundi/Africa.