Deal: Adobe Photoshop Elements 2021 – $59.99 (reg. $99.99, Mac/Win, DVD & Download)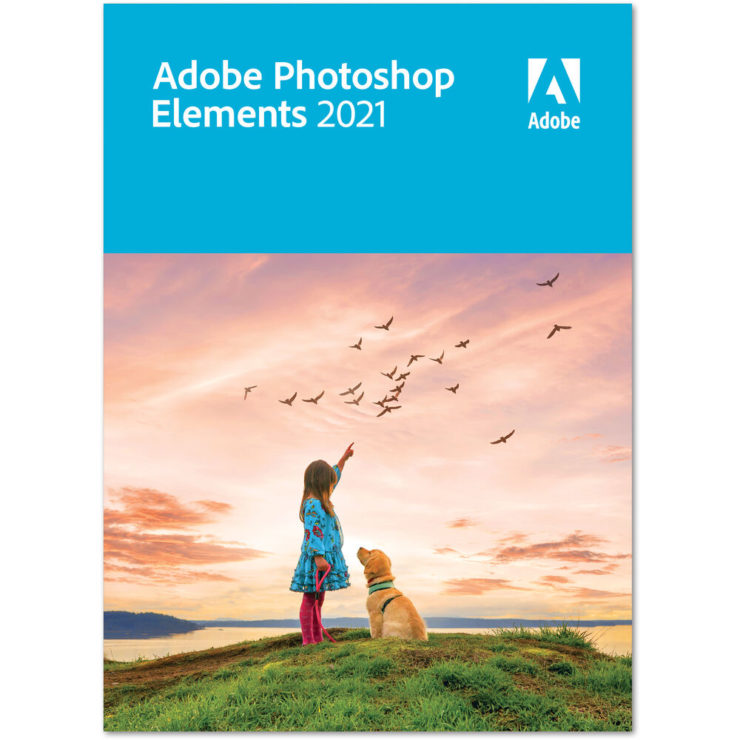 A recurring deal and a good one. In case you missed it last time. Today only (02/22/21) Adorama has a 40% discount on Adobe Photoshop Elements 2021.
At a glance:
Photo Editing and Organization Software
Adobe Sensei AI Technology
Intuitive Home Screen and Auto Creations
Add Motion to Still Images
Face-Tilt and Facial Feature Adjustments
Quote Graphics and 58 Guided Edits
Smart Tags and Facial Recognition
Automatic Catalog Structure Backups
Built-In Prints and Gifts Service
For macOS 10.14/10.15 & Windows 10
Get Adobe Photoshop Elements 2021 on sale at $59.99. Compare at $99.99. Mac and Windows versions, DVD or download.
---
Hand-picked deals are listed here.
Deal pages:
Refurbished lenses and DSLRs at Canon Store (best deals to be found here)
Save $10 on Luminar 4 and/or Aurora HDR 2019 and/or Luminar AI using our code "WATCH" at checkout.
Adobe Photoshop Elements 2021 Overview
Designed for fun and ease-of-use, Adobe Photoshop Elements 2021 is a simple-but-effective image editing and organization application. Revolving around the use of Adobe Sensei AI technology, automated editing and organization is possible to simplify and expedite the post-production process. This technology can apply quick fixes to common image flaws, such as opening closed eyes, and can also aid in making clean and accurate selections for compositing images. It can even add motion to still images for producing dynamic animated GIFs.
Beyond just making automated corrections, this technology also works in conjunction with a series of Guided Edits to help refine and improve your own editing skills. Sensei AI can also be used to sort through your library of images, and automatically cull images according to selected presets or just based on recognized faces and image quality. Additionally, automated capabilities also help in producing dynamic image and video slideshows and collages for sharing your work. Rounding out the feature-set, a variety of exporting options are possible, ranging from in-app production of wall art, prints, and gifts to sharing your finished image compositions to social media.
Photoshop Elements 2021
Add motion to still images and transform your photos into moving, animated GIFs with 2D and 3D camera motion.
Perfect for social media, apply quote graphics on top of images for adding motivational or personalized messages using preset templates with customizable options and even animations.
Enhance your landscape shots by replacing skies, reducing haze, and erasing unwanted objects from the scene using updated Adobe Sensei-powered Guided Edits.
Add some style to images with customizable duotone effects that render your images in distinct two-color palettes. This new Guided Edit also incorporates pre-set social media sizing guides and gradient effects, too.
Get step-by-step help with moving, scaling, and duplicating objects to easily and naturally change selection positions, sizes, and more.
Perfect your portraits by fine-tuning the tilt angle and position of people's faces. Powered by Adobe Sensei, this automatic correction helps to ensure everyone in the photo is looking in the right direction.
Promoting organization and workflow efficiency, your catalog structure can now be automatically backed up in order to maintain your album structures, keywords, tags, and labeled people, places, and events, all synchronized for easy recovery.
Start Your Creativity
A dynamic home screen quickly gets you working and helps you follow your creative impulses while also highlighting fun editing tricks, newly added features, and other inspirational ideas and tutorials.
Expedite your process using Auto Creations, which is powered by Adobe Sensei AI technology, for quickly making polished slideshows, collages, and other finished formats with creative effects.
Intelligent Editing
Intelligent editing and automated creation modes are aided by the powerful Adobe Sensei AI technology, which helps process imagery, apply corrections, and create finished products.
Automatically colorize your black-and-white photos to give a new dynamic appearance.
Easily select subjects with a single click; Adobe Sensei intelligently makes isolated selections to help cleanly remove your subject or background from an image.
Optimize portraits by adjusting facial features, including automatically opening closed eyes, whitening teeth, and turning frowns upside down, and by automatically smoothing skin textures.
Easily and automatically apply common photo edits, including make skies bluer, remove haze, adjust tilted photos, and correct tone with a tool that remembers favorite looks.
Choose one of five perfect effects to apply to photos, based on the subject, color, and lighting of your shot, or, pick your own fun filter and customize the look to suit your personal taste.
Reduce camera shake with the dedicated Shake Reduction tool, which automatically minimizes unwanted blur for sharper-looking photos.
Guided Edits
There are 58 distinct Guided Edits available, which are unique interactive tutorials to help you gain editing skills while working on your own images. Some of the edits include:
Erase distractions, such as power lines, people, and other unwanted objects, in order to redirect focus on your intended subject.
Replace backgrounds by simply selecting the subject and placing it on a new background to change the overall mood and setting.
Add an illustrated sketch effect to an image by brushing on the look of your choice, including pencil, colored pencil, old paper, and old photo.
Use selective color within a black-and-white photo for a dynamic pop; highlight a single color or a specific object, then turn the rest of the image to black-and-white.
Merge multiple shots into one image in order to perfect the exposure, remove distracting elements, or to just create unique compositions or panoramic effects.
Brush on fun patterns, like hearts or stars, for a simple and creative flourish.
Design a visual text effect, which features different photos inside each letter, then adjust and resize your photos to make names or other words with a unique and personalized style.
Blend two photos using the double exposure effect for a creative translucent look.
Apply text and borders to images for a bit more of a design touch that is perfect for sharing.
Organize
Automatically organize numerous folders of photos using a visual view of your images sorted by date, subject, people, and places. Once in place, your chosen catalog structure is also automatically backed up for easy recovery.
Use Smart Tags to automatically tag photos based on recognized subjects, such as sunsets, birthdays, and even by the people in photos, to help easily located specific photos later on.
Auto Curate intelligently selects your best photos based on quality, faces, subjects, Smart Tags, and other criteria to help you save time searching for the standouts.
Sharing
For users in the USA, a built-in prints and gifts service lets you easily order wall art, accessories, and other photo creations via FUJIFILM Prints & Gifts service, which is integrated right into the Elements interface.
Create collages using just a few clicks and select from an array of templates, pan or zoom within your photos, and even replace backgrounds when needed.