[Deal] Canon EF-S 55-250mm f/4-5.6 IS II Down To $149 For Limited Time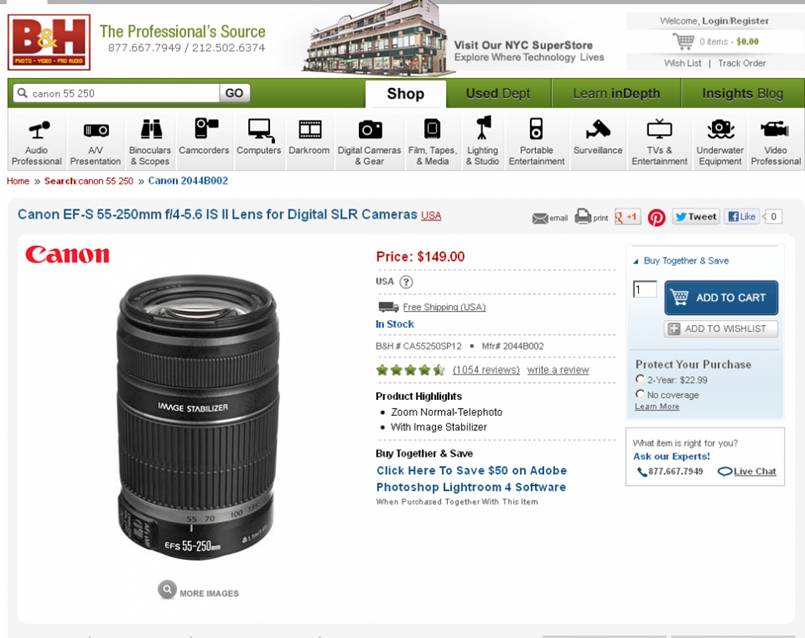 B&H has the EF-S 55-250mm f/4-5.6 IS II lens down to $149 for limited time (48hrs, click here). Regular price is $255; not bad imo. Good travel lens.
The Canon EF-S 55-250mm f/4-5.6 IS II Lens is a compact and lightweight telephoto zoom lens that is specifically designed for the range of EOS digital SLR cameras that use the smaller EF-S lens mount. Combining powerful performance with high image quality, this lens offers the equivalent of 88-400mm in 35mm format, and is ideal for photographers seeking an affordable, versatile lens for general-purpose telephoto photography.

The EF-S 55-250mm f/4-5.6 IS II Lens incorporates Canon's 4-stop compensation Image Stabilizer technology. This allows the use of shutter speeds up to 4 times slower with no perceptible increase in image blur. Automatic panning detection automatically turns off the Image Stabilizer in either the horizontal or vertical direction when following moving subjects.

Note! Compatible with cameras that have APS-C size sensors
Image Stabilizer

4 step Image Stabilizer (IS) extends low light options to previously unavailable levels. Photographers normally shooting handheld at 1/250 sec can switch on IS to obtain a similarly steady and blur-free result with a shutter speed of just 1/15 second.

Superior Image Quality

One UD (Ultra-low Dispersion) lens element is used to suppress the effects of secondary chromatic aberrations – for crisp, sharp, high-contrast images without fringing throughout the zoom range.
Super Spectra Coatings

Optimized Super Spectra lens coatings and lens element shaping, suppress flare and ghosting – more prone to occur with digital cameras due to reflection off the image sensor. Coatings also help achieve true color balance and increase contrast for vivid hi-fidelity images.