Deal: Flashpoint R2 E-TTL Transmitter for Canon – $29 (reg. $46, today only)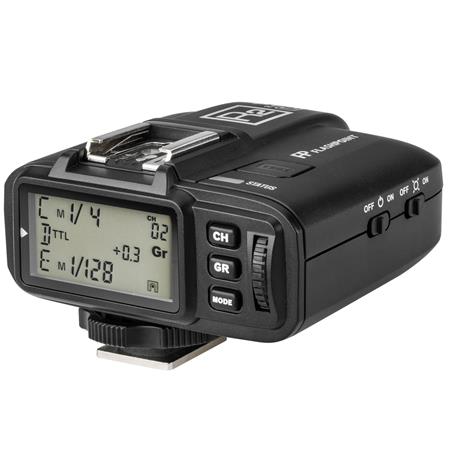 Excellent year end deal by Adorama, and it's only for today (12/31/2019). Get the Flashpoint R2 E-TTL Transmitter for Canon cameras on sale at only $29. Compare at $46. Free shipping.
More to check…
Hand-picked deals are listed here.
Authorised Canon retailer B&H Photo has discounted EOS 5D Mark IV and EOS 6D Mark II bundles on offer for the holidays.
We offer 10% discount to subscriptions to Pixpa all-in-one platform for photographers.
Today's Gold Box and one day only deals at Amazon US, Amazon DE, Amazon UK, B&H Photo, eBay, Adorama.
Canon Europe stores have a cash back promotions going on:
Refurbished lenses and DSLRs at Canon Store (best deals to be found here)
Save $10 on Luminar 4 and/or Aurora HDR 2019 using our code "WATCH" at checkout.
Flashpoint R2 E-TTL Transmitter key features and description:
Complete Manual exposure from 1/128 to
Full power (1/3rd Increments)FEC / FEB – 1/3rd increments ( 3 Stops)
FEL (Flash Exposure Lock)
First or Second Curtain Sync
Flashpoint R2 2.4GHz Radio System unifies and simplifies
Great transmission range beyond 330 ft / 100m
High Speed Sync to 1/8000th
Traditional Flash Modes ETTL / M / OFF
Channels: 32 Channels
Connection Type: Hot Shoe & PC
Equipment Type: Transmitter
Radio Frequency: 2.4 GHz
Slave Type: Radio Slaves
The Flashpoint R2-C is the ultimate radio transmitter for Canon EOS DSLRs that speaks to Flashpoint Streaklight, ZoomLi-on and Zoom and Canon Optical Radio Remote without missing a beat and connects to all strobes with sync ports.The incredible range of these compact and lightweight units as well as their integrated functions and features make them the first choice of professional photographers. The proprietary TTL and HSS enabled 2.4GHz R2 Radio Remote System radio triggers transmits atop a Canon EOS body with the essential TTL pass-through and laser AF assist and works with the complete family of Flashpoint Speedlights, Monolights and Strobe lights with R2 TTL radio transceiver built right in.
All the R2 enabled family communicate seamlessly: the lithium powered Zoom Li-on Canon, Nikon and Sony TTL speedlights, the Zoom M alkaline energized speedlight, the fantastic Streaklight 360 Canon and Nikon TTL powerhouse, and the masterful 600ws XPLOR600 monolights.Older Flashpoint flashes can be fired and controlled off camera while being attached to the R2 Radio Remote Receiver FPRRR2RC to grace remote link to earlier models.
To compliment the traditional Canon A:B C group ratio style interface, the R2-C provides a full proprietary GR Group style interface allowing up to 5 Groups to be individually set to either TTL, Manual, or Off.The battery powered units provide TTL, HSS (High Speed Sync) and even a HSS pre-sync timing adjustment forprecision synchronization.PC cord sync input and output ports are provided for external device remote sync without automation.R2-C receivers are compatible with Canon Mark II style speedlights like the Canon 580EX II and 600EX-RT in E-TTL optical radio mode, which were released after 2012.
Controlling the remote strobes is straightforward, with a large clear LCD panel interface aside 3 separate buttons relating to channel, groups and modes, while a thumb wheel provides fast scroll adjustment for the selected function.A simpleswitch located on the side of the transmitter allows the laser pattern Focus Assist Light to be switched on and off when needed.