Deal: Refurbished Canon Speedlite 320EX – $167 (Adorama)
Adorama has refurbished Canon Speedlite 320EX on sale for just $167. Good deal!
Description and specifications after the break.
Built-in LED light can be used to illuminate nearby subjects in dim light – especially useful when shooting video, as a modeling light or as an AF assist beam (with Live View), providing up to four hours of continuous lighting with fully-charged AA batteries
Versatile vertical and horizontal bounce capability provides an extended range of possible lighting effects
Flash release function triggers the camera wirelessly from the flash on a 2-second delay, allowing the flash to be repositioned to illuminate the subject
Wireless Slave function supports three groups and four channels, allowing the flash to be positioned off-camera
Flash coverage can be switched by extending or retracting flash head, with Normal (24mm full-frame equivalent, max. Guide No. 79 ft./24m at ISO 100) and Tele (50mm full-frame equivalent, max. Guide No. 105 ft./32m at ISO 100) settings
Light and compact body holds 4 AA batteries with a fast recycle time of 2.0 seconds
The Canon's Speedlite 320EX is a versatile flash that includes an LED light on the front that can be used as a modeling light, an AF assist beam during Live View shooting, or to light up nearby subjects in low light for video recording. It will provide up to 4 hours of continuous lighting with fully-charged AA batteries. The 320EX is E-TTL- and E-TTL II-compatible using Type-A EOS cameras and it has a guide number of 78.7'/24m @100 ISO at 24mm.
Vertical and horizontal bounce capability gives you more lighting options, as does the Wireless Slave function that supports 3 groups and 4 channels, allowing the flash to be used off camera. You can vary the flash coverage and guide number by manually extending or retracting the flash head, using the Normal or Tele positions. The 320EX operates on widely available AA batteries. Batteries are not included.
The Canon 320-EX is commonly used for General purpose and more.One reason why the Canon 320-EX is popular is because of its Easy to use.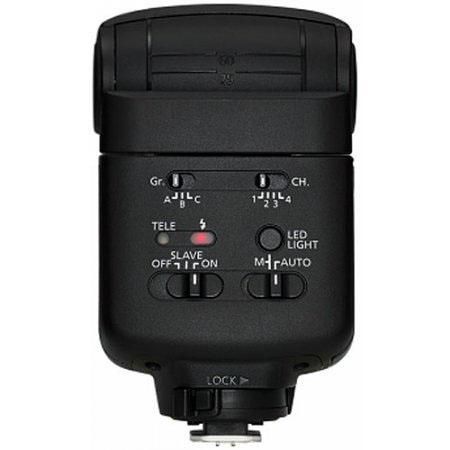 Canon 320-EX Specifications
Guide No.
24mm: 78.7'/24m @100 ISO
50mm: 105'/32m @100 ISO
Angle of Coverage
EF lens: 24mm/50mm
EF-S lens: 15mm/31.3mm
Manual switching
Auto f/Stops
Full TTL at all apertures
TTL Dedication
E-TTL II/E-TTL with all Type-A EOS cameras (E-TTL II/E-TTL autoflash)
Bounce Head
Yes
Swivel Head
Yes
Zoom Head
Manual zoom
Off Camera Terminal
No
Recycle Time
Normal flash: Approx. 0.1 – 2.3 sec.
Quick flash: Approx. 0.1 – 1.8 sec.
Power Source
Four size-AA/LR6 alkaline batteries are used. Ni-MH or lithium batteries can also be used.
Number of Flashes
Approx. 180-1000 flashes, with fresh AA-size alkaline batteries
AF Assist Beam
Intermittent flash firing system Effective range:
1) At center: Approx. 13.1'/4 m
2) Periphery: Approx. 11.5'/3.5 m
3) LED light: Approx. 13.1'/4 m
Custom Functions
1) C.Fn-01: Auto power off (Enabled/Disabled)
2) C.Fn-06: Quick flash w/continuous shot (Disabled/ Enabled)
3) C.Fn-10: Slave auto power off timer (60 minutes/10 minutes)
4) C.Fn-11: Slave auto power off cancel (Within 8 hours/ Within 1 hour)
Dimensions (W x H x D )
2.8 x 4.5 x 3.1″ (7.1 x 11.4 x 7.8 cm)
Weight
9.7 oz (275 g)