Deal: Rokinon 50mm T1.5 AS UMC Cine DS Lens – $369 (reg. $549, today only)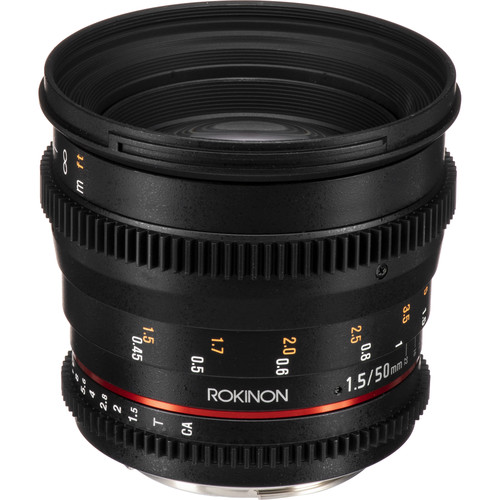 Here is an excellent Rokinon 50mm T1.5 AS UMC Cine DS Lens deal by B&H Photo.
Only for today (12/8/2019) get the Rokinon 50mm T1.5 AS UMC Cine DS Lens on sale at $369. Compare at $549. Free shipping.
Authorised Canon retailer B&H Photo has discounted EOS 5D Mark IV and EOS 6D Mark II bundles on offer for the holidays.
More hand-picked deals are listed here.
Key features:
EF Mount Lens/Full Frame Format
Aperture Range: T1.5 – T22
One Aspherical, One Hybrid Asph. Element
Manual Focus and Aperture
The 50mm T1.5 AS UMC Cine DS Lens for Canon EF Mount from Rokinon is a fast manual focus prime lens. It provides a very fast maximum aperture of T1.5 for effective low light capture and shallow depth of field control and an 8 blade iris for attractive bokeh. Optimized for cinema and video applications, the focus and aperture control rings are outfitted with industry standard gearing, which provides an interface for working with a traditional follow focus. The aperture control ring has also been de-clicked, which enables smooth iris pulls. In addition, bright aperture and distance markings are printed on the lens barrel facing laterally to facilitate easier control by a focus puller.
The 50mm has a minimum focus distance of 1.5′. Internal focusing minimizes the effects of lens breathing, which insures a more consistent angle-of-view when adjusting focus. The lens is composed of 9 elements in 6 groups, including one aspherical element and one hybrid aspherical element to reduce aberrations. In addition, a lens multi-coating helps to improve light transmission reducing flare and ghosting. The filter thread diameter is 77mm.
With this 50mm lens, Rokinon introduces the DS series of cinema lenses, unifying their cine lenses in more than just name. Each of the DS branded lenses will offer the same alignment of their geared focus and aperture rings so that follow focus and other rig accessories won't need re-adjustment when swapping lenses. Also, each DS lens is tested to be color matched with the other lenses in the series and provide the same color and contrast when shooting video. Lastly, the lenses are marked with focusing scales on each side of the barrel for easier adjustment from either side of the camera.Standard length manual focus prime lens for EF mount cameras.Functional as still photo lens but optimized for cinema and video shooting with geared aperture and focus rings, de-clicked aperture for smooth exposure transitions and laterally printed aperture and distance markings. The 50mm T1.5 is part of the DS series of cine lenses, sharing characteristics and features that unify the series and make it easier for users to swap out lenses when shooting video. Each DS lens provides aligned focus and aperture rings so that readjustment of the follow focus is not necessary when switching lenses. Also each lens has been tested to match color and contrast for a consistent look and less potential post-processing. Finally, all DS lenses print focus scales on each side of the lens barrel for ease of use from both sides of the camera.Very fast T1.5 maximum aperture for effective low light capture and shallow depth of field.Internal focusing system with 9 lens elements in 6 groups.One aspherical and one hybrid aspherical lens element control aberrations and improve sharpness throughout the frame.Lens multi-coating improves light transmission and reduces flare and ghosting.Minimum focus distance of 1.5'Filter thread diameter of 77mm