Deal: Rokinon 8mm f/3.5 HD Fisheye Lens – $169 (limited time offer)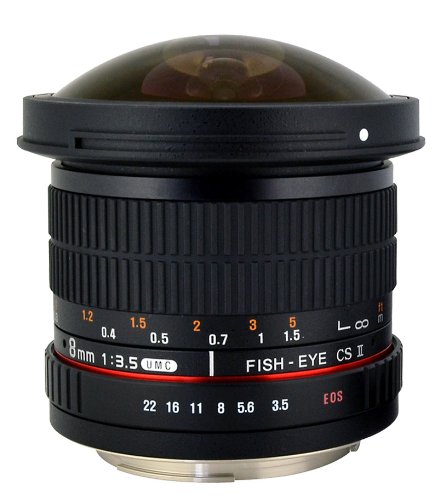 Amazon has the Rokinon 8mm f/3.5 HD Fisheye Lens with Removable Hood for Canon on sale at $169.
Ultra wide-angle 8mm fisheye lens with exaggerated perspective for dramatic effects; Manual focus
Ultra-wide 167º diagonal field-of-view for APS-C size image formats will produce a rounded image that doesn't cover the entire frame when used with compatible full frame digital cameras or 35mm film cameras
Lens is constructed with hybrid aspherical elements for outstanding, sharply defined images; Lens has a minimum focusing distance of 12″ (30.48 cm) for enhanced close-up shots
Features improved HD optics for the sharper images; Lens features super multi-layer coating to reduce flare and ghost images
Aperture Range: F3.5 to F22, Minimum Focusing Distance: 11.8"(0.3m), Filter Size: 67mm
Number of Diaphragm Blades: 6; Optical Construction: 10 Glass Elements In 7 Groups
More hand-picked deals are listed here.
Rokinon 8mm description:
The 8mm f/3.5 Fisheye Lens with Removable Hood from Rokinon gives you a 167º view with dramatic, exaggerated perspective when used with an APS-C camera, or a powerful circular image floating in the frame when used with a full frame digital camera or 35mm film camera. With hybrid aspherical elements and multi-layer coating, you will produce sharply defined images with a minimum of flare and ghosting. The 8mm lens focuses as close as 12″ (30.48 cm) from the lens. This version of the 8mm f/3.8 Fisheye lens comes with a removable lens hood that will offer glare reduction and lens protection, but can be removed to offer an increased and unobstructed angle of view when shooting with full frame digital or 35mm cameras.
Since 1979, Rokinon lenses and optics have been synonymous with unparalleled quality and integrity. The Rokinon brand continues to deliver on its stellar reputation by providing superbly engineered and innovative products at prices that are affordable. As one of the largest and most popular brands of DSLR camera lenses in the world, you can be confident and secure that Rokinon products will provide outstanding performance with unsurpassed durability. Rokinon is proud to provide a wide range of mounts including Canon, Nikon, Pentax, Sony, Canon M, Fujifilm X, Sony E, Samsung NX, as well as Micro Four Thirds cameras. Whether you plan to acquire new lenses or add on to a existing collection, Rokinon helps you unlock your creative potential and focus on the value and performance that only Rokinon lenses can achieve.