Do You Motorcycle And Take Photos? Then Enter This Giveaway To Win Cool Prizes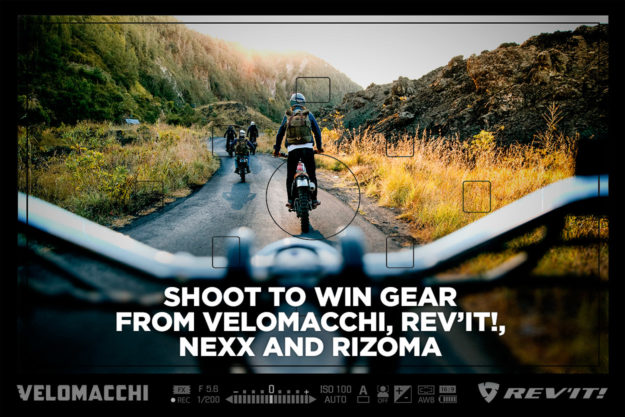 If you're riding a motorcycle and have taken some cool pictures of your ride then why not enter a photo contest and chase the chance to win a prize?
You can win riding gear and motorcycle accessories from four moto brands: Velomacchi, REV'IT!, NEXXand Rizoma.
Bike EXIF hosts the photo contest:
The theme is simple: 'My Favorite Road.' Show us where you like to ride, and include your bike in the image. It might be a twisty mountain road, a wide-open highway under big skies, a forest track, or even a tight city street. We want to see where you twist the throttle.

How to enter You can send in up to three shots, and we have two categories for entries: Privateer and Professional. (If your main income comes from photography, that means professional.)

Please send images as JPGs that are at least 2000 pixels wide, but less than 5 MB in size. We prefer images that are 'natural.' Please name your files in this format, so we can trace them easily: last-name_first-name_photo-name.jpg.

You can enter no matter where you live in the world, as long as you're over 18. As specified in the rules, you retain all rights over images that you submit.
Head over to Bike EXIF to get terms and condition and to learn more about the photo contest. Just make sure you upload your images before 11:59pm PST on Monday, November 26, 2018. Good luck!