Elinchrom announces ELB 500 TTL – "The Most Powerful Portable TTL Light Ever"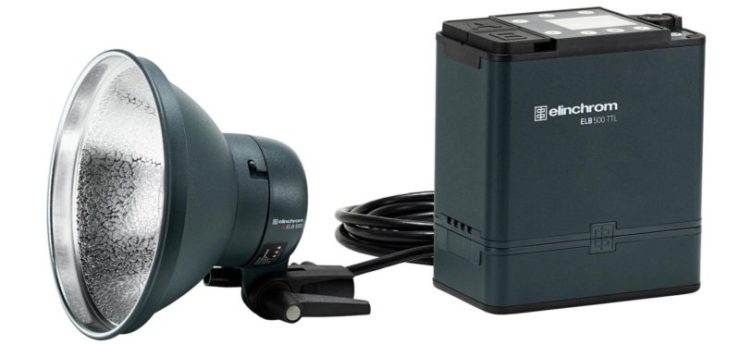 Elinchrom announced the new ELB 500 TTL, which they call "the most powerful portable TTL Light ever".
The Elinchrom ELB 500 TTL is available for pre-order: B&H Photo | Adorama
Press release:
Elinchrom introduces the ELB 500 TTL
The most powerful portable TTL light ever!
The new ELB 500 TTL is the most powerful and portable TTL light ever designed for adventurous portrait photographers shooting both in studio and on location.
Today, Elinchrom introduces the ELB 500 TTL, an incredibly portable and powerful battery pack combining 500Ws of power with a feature set including TTL, High Speed Sync, Active Charging, Full Asymmetry with built-in Skyport designed to empower the workflow of portrait photographers both in studio and on location.
Speed & Simplicity with TTL
The ELB 500 TTL is ideal for photographers who find themselves in time sensitive shooting environments where the inherent speed of TTL lets them capture images at the speed of life or for those who simply prefer the convenience of TTL.
The "Manual Lock" functionality allows photographers to get an initial "lock" on their exposure in TTL and then switch to manual mode to further adjust their exposure as they need or to explore different creative effects.
500 Ws Power in an Incredibly Portable Package
The ELB 500 TTL is powerful enough to overpower the sun, delivers 400 full power flashes on a single charge and has a fast recycling time of 2 seconds at max power, ensuring you won't miss an important moment.
The ELB 500 TTL head is smaller than speedlites yet delivers 10 times more power. It is lightweight enough to be mounted on a camera bracket or boom arm while on location.
The Versatility of HSS, Asymmetry & Active Charging
High Speed Sync lets photographers freeze motion with incredible sharpness, create a narrow depth of field, or darken overly bright backgrounds using a high shutter speed (up to 1/8000sec).
With the new ELB 500 TTL, not having to worry about flash sync limitations or the time of day makes for a very liberating creative experience.
Ease & Intuitiveness of a Brilliant User Interface
When the pressure is on to get the shot, no one ever wants to fumble with controls.
The large OLED display and intuitive controls of the ELB 500 TTL makes using the pack a pleasure.
The Heritage, Quality & Value of Elinchrom
The ELB 500 TTL is the newest compact flash solution in a long line of innovative and ultra-reliable Elinchrom products that represent a decades-long commitment to crafting the highest quality lighting tools while providing superb value to their customers.
The ELB 500 TTL represents an optimal feature set for portrait photographers and is ideal for those looking to trade up to a more powerful option to their speedlights, trading over from less full-featured options or searching for the very best value in the category.
[via
Fstoppers
]