EOS 1D X/5D Mark III video explains the AF system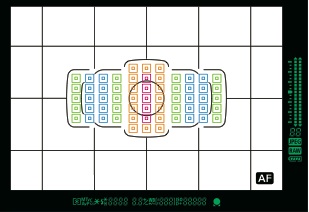 I found a good >4min video about Canon's new AF system on CPN's site. The video is about the EOS 1D X, but since the 5D Mark III sports the same AF system what is told in the video applies also to the latter. Let me first sum up the AF system.
The Canon EOS-1D X and 5D Mark III DSLRs feature an advanced 61-point AF system. The new AF system delivers consistent focusing performance, independently from which kind of subject you are framing or from possible bad light sonditions you may encounter.
Mike Owen (European Professional Imaging Communications Manager) talks about the key features and advantages of the new 61-points AF system that comes with 41 cross-type sensors and five dual-cross type AF points for even more precision. There is also motorsport photographer Frits van Eldik in the film, talking about his first impressions with the new AF system: "The 61-point system on the EOS-1D X is so quick and accurate, and has AF points spread over a wide field, that it allows you to focus very accurately".
The benefits of the new AF system include finer precision and increased AF tracking speed, increased low-light sensitivity down to EV -2 (the equivalent of shooting under the light of a full moon), faster predictive focus measurements, and the ability to adjust for any potential chromatic aberrations within the AF optics particularly when shooting under artificial lighting.
Autofocus modes are One-shot AF and AI Servo AF whilst for easier menu navigation and setting, all of the AF and AF Custom Function settings are now grouped into one dedicated AF menu tab. There are also six AF point selection modes in the camera – Automatic, Single Point AF, Single Point Spot AF (available with all lenses), Zone AF, and two AF point expansion settings.
The AF system works together with the autoexposure system that deploys a 100,000-pixel RGB metering sensor and a new metering algorithm. The sensor is used to detect a subject's brightness, colour and face so that the right metering mode is chosen. Subject are tracked.
An advantage of having more focus sensitivity is the capability to detect extreme defocus and to correct it accordingly. By using the whole AF sensor (each point is vertical line sensitive at <f/5.6) a lens can be refocused much more quickly than before. The increased sensitivity of the focus system has also allowed for faster predictive focus measurements so that predictive tracking can start as soon as a subject begins to move.
There are six AF case studies you can choose from to optimize AF.
Case 1: general purpose shooting, provides accurate and fast focus across a wide range of shooting situations
Case 2: situations where the subject may temporarily move away from the AF point
Case 3: instantly focus on subjects that enter the AF point area
Case 4: subjects that change speed or direction rapidly
Case 5: use with automatic AF point selection, Zone AF and AF Point expansion and subjects that move erratically, up and down or left and right
Case 6: subjects that change speed abruptly and move erratically. Like case 5 it is used with Automatic AF point selection, Zone AF and AF Point Expansion
See the video clicking here.
EOS 5D Mark III price check (click on shop name): B&H Photo, Adorama, Amazon USA, Amazon Canada, Canon Canada, Canon USA
For a list of shops that have the 5D Mark III in stock click here.
EOS 1D X pre-order options ($6,799.00, click on the shop name): Amazon, B&H, Adorama
Happy Easter Break….