EOS 5D Mark III strip tease: Perfection where you can't see it.
What do you do if you rent out a camera and it comes back with a loose screw inside? You probably would send it in to a service center to get the problem fixed. But if you have the necessary technical skills (and you really need this skills) you may also decide to tackle the problem by yourself and to open the camera to find that damned screw that's rattling around inside. This is what Roger Cicala of lensrentals.com must have thought as he got such a camera body in his hands. It happened to be an EOS 5D Mark III, and he posted the report on imaging-resource.
As usual I have to discourage you to tear down your new 5D Mark III (and every other camera body too). You need professional skills to perform such an operation, and should you have, say, a screw rattling in your cam (or another similar problem), it's best to let an authorized service center do the job for you. That said, we can go on.
The EOS 5D Mark III is a well-engineered piece of high-tech, quoting: I made the comment when the camera first came out that this could well have been named the 6D, it was really that different from the 5D Mk II. Nobody else seems to think so, but looking inside confirms what I thought: inside this camera is largely redesigned and it's one of those where I want to compliment the engineers. This camera is beautiful inside, logically laid out and well built. I agree on this point. Without having ever opened a Mark III I always said that it was not a mere update of the Mark II, but an entirely new designed camera. I am glad to hear that it has been redesigned also in its assembly and electronic layout.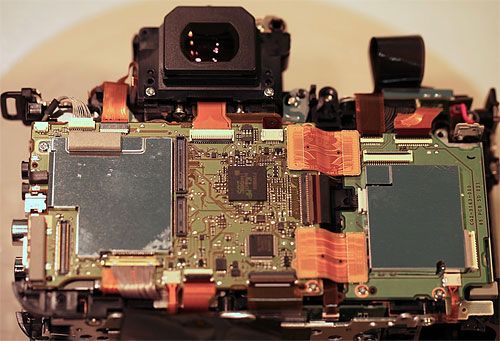 This is good to know, since good electronic gear has to be laid out in a neat manner. If you ever opened an Apple MacBook or Mac Mini (or every other Apple device) you can see what it means: beauty, order and the perception that you have a well and elegantly designed device in front of you. It's an important issue. I firmly believe that a well designed and good functioning electronic device reflects in its interiors. That's to say that outstanding gear can not be lousily arranged and assembled. That's simply not possible. That's why I agree with Roger Cicala: beauty is more than skin deep. Or in my words: perfection has to be everywhere, also where you normally wouldn't see it. Going on with the teardown, Mr. Cicala writes: there is only a single flex attaching the back assembly to the main board, and one flex and a wire harness from the top assembly. The circuit boards and flexes for both the camera body and back are covered with black rubberized sticky plastic, protecting things inside (and possibly adding some electrical shielding). I haven't seen this on other cameras, it's a very reassuring thing (and may explain why the loose screw didn't short anything out).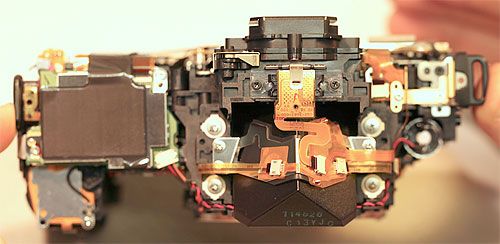 The 5D Mark III is known to be a robust, weather-sealed camera body (ok, it has to be with this price tag), and that also reflects in its interior assembling: With the sheeting removed you get a really good look at just how well this camera's electronics are laid out: every flex run is short and direct, insulated wiring harnesses are used in several places, and heavy-duty plug-in connectors are used more frequently than I've seen on any other camera.
More pictures and the report of the teardown on imaging-resource. Yes, they found the screw and reassembled the camera body. Everything's fine. I reported about another tear-down of the 5D Mark III before.
For a list of shops that have the 5D Mark III in stock click here. For the latest 5D Mark III pics uploaded to Flickr click here.