EOS 5D Mark III vs Nikon D800 Live-View Usability
Ok, it appears that the D800 has more problems than most people would like it to have. After what we already reported (and here too), it looks as if there was another little big problem. The live view of the Nikon D800 seems to be rather disappointing if compared to the one featured on the EOS 5D Mark III – at least for night shots. Photographer Ron Martinsen writes about what he calls a D800 live view zoom bug:
Simply put, I found the Live View feature on the D800 to be unusable at maximum zoom under low light conditions like these. When I would zoom in with the Canon I'd get great detail and could easily dial in my focus on a detail like the people in top of the Space Needle. However, when I zoomed in with the Nikon all I could see was noise like you'd see on a old analog color TV. It was horrible and unusable!
And then:
I find the results of the D800 to be so horrible that I really am starting to wonder if it is a bug worthy of a recall. I can use a Rebel T2i and get better results than the D800, so with Nikon's claims of video parity and in some cases superiority to Canon's video support, how can they expect people to use this?
Ron was so kind to send me two pictures to better show the problem. First picture is shows the live view of the D800, second one of the 5D Mark III. The live view of the D800 really looks unusable.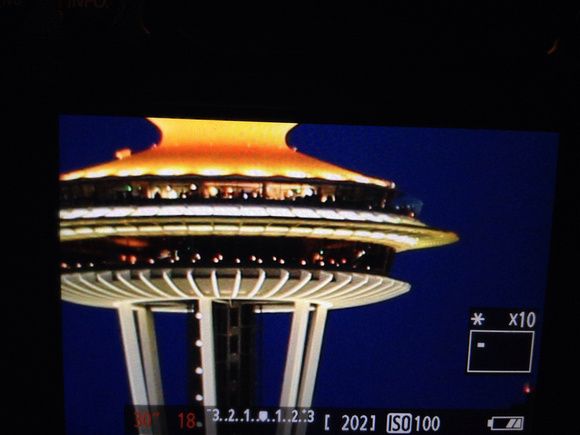 Ron Martinsen concludes:
If I were a D800 owner, I'd be very mad about this and would use this video (or your own) as evidence to Nikon that they could do better. Hopefully they will in a future update as the D800 has so much potential for landscapes and cityscapes that it would be a shame if they could only be done during good light for the best focusing experience.
Well, I am glad to here that the live view on the Rebel T2i/550D (see above) is better than the one sported on the D800! ;-)
For the latest 5D Mark III pictures uploaded to Flickr click here.
EOS 5D Mark III availability & price check: B&H Photo, Adorama, Amazon USA, Amazon CA, KEH Camera, BestBuy, Canon CA, Canon USA