Giveaway: Win a COSYSPEED Camslinger Outdoor Bag, and learn about the new crowd funding campaign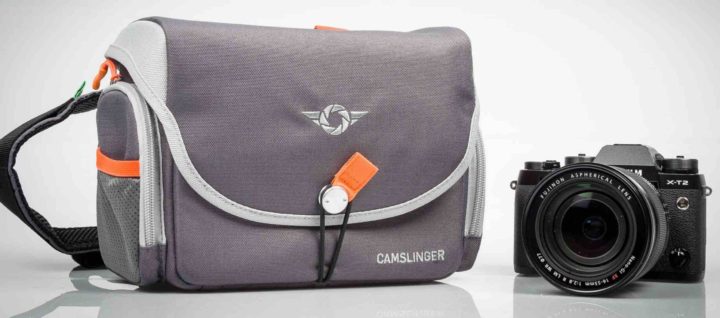 GIVEAWAY NOTES
The bag will be shipped worldwide. We will choose one winner for each rumor site + Cosyspeed (Totally 5 bags)
Together with COSYSPEED and our friends, we start a new giveaway for a fantastic COSYSPEED CAMSLINGER bag. Take part to the giveaway using the box above, learn all you need to know below. Good luck!
Thomas from COSYSPEED writes:
Hi all,
in March this year you and your readers helped us with ideas and suggestions about our CAMSLINGER Outdoor camera bag project. We got about 60 ideas from your readers, which was simply fantastic. Not all, but some of them flew into the CAMSLINGER Outdoor, which is currently on Indiegogo: https://igg.me/at/camslinger-outdoor
To say thanks we'd like to give away a CAMSLINGER Outdoor to your readers :-) MANY THANKS and have a wonderful Christmas and amazing 2017.
Cheers,
Thomas, Cosyspeed CEO
See the press release for COSYSPEED's new Crowd-Funding on Indiegogo. The CAMSLINGER Outdoor is designed for outdoor-active photographers who like to go hiking, biking, climbing, horse riding and travelling: https://igg.me/at/camslinger-outdoor
Press Release after the break
CAMSLINGER Outdoor Camera Bag
The 1-hand/1-second camera bag for outdoor-active photographers
German camera gear brand COSYSPEED introduces the new CAMSLINGER Outdoor camera bag in a crowd-funding on Indiegogo. The CAMSLINGER Outdoor is a camera bag designed especially for quick, one-handed access and is worn around the hip or over the shoulder. It has several features that makes it the ideal camera bag for outdoor-active photographers, who like to go hiking, climbing, biking, horse riding or travelling The crowd-funding is running until valentines day: https://igg.me/at/camslinger-outdoor COSYSPEED successfully funded the CAMSLINGER Streetomatic on Indiegogo in 2015.
The FASTEST camera bag of the world
The CAMSLINGER Outdoor provides quick, one-handed access to the camera. This 1-hand/1-second concept is unique. Just one hand and one second is needed to get the camera out. This comes in very handy in all those situations when a photographer has only one hand free. It's almost as quick as a sling strap, but provides the safety of a bag against rain and bumps. The CAMSLINGER Outdoor is also much quicker then a backpack. It can be accessed on the go without losing any time and is much more convinient then grabbing after a backpack and scrabbling out the camera.This and the comfy way of wearing makes the CAMSLINGER Outdoor a great choice for outdoor-active photographers.
Durable materials and robust build
The CAMSLINGER Outdoor is made from NYLON 900D fabrics in military quality. It's water resist, robust and durable. As an option a raincover can be slipped over, which is stored in the bottom of the bag. The closure is made by German fastener specialist www.fidlock.com and works with magnets to provide quick but safe operation. Other features like loops to fix the CAMSLINGER Outdoor at the thigh when horse riding or plenty of small pockets for accessories makes the bag a complete companion for all kinds of outdoor activities.
Development in Cooperation with Swiss Climber and Photographer Stephan Wiesner
The CAMSLINGER Outdoor was developped in cooperation with climber and photographer Stephan Wiesner from Switzerland (www.stephanwiesner.de / https://www.youtube.com/user/fotografietutorial). During the crowd-funding a CAMSLINGER Outdoor Blue S. Wiesner Edition will be available. 20 $US from this Edition will flow into a development aid project of our German partner www.burundikids.org. The project gives shelter to young homeless mothers and their babies in Burundi/Africa: http://burundikids.org/en/projects/local_projects/mother-child-house.html
For what gear is a CAMSLINGER Ourdoor?
Mirrorless Cameras
Mid-sized DSLRs
Superzooms
Lenses
Travel Stuff
Specifications
Inner Dimensions: 155 mm (6.1″) high x 190 mm (7.5″) wide x 95 mm to 110 mm (3.7″ to 4.3″) depth due to flexible back. Adjustable belt from 750 mm (30″) to 1,250 mm (50″) and expandable up to 1,650 mm (65″) with optional Beltextension 40. Weight: 480 g / 1 lb. Colors Grey, Blue
In the box
CAMSLINGER Outdoor
Raincover
FINGERCAMSTRAP 10
6 compartment deviders
Tigh band
Availability and Pricing
The CAMSLINGER Outdoor is available on Indiegogo: https://igg.me/at/camslinger-outdoor
During the Crowd-Funding the CAMSLINGER Outdoor is available in an early bird option at 69,- $US for the grey and blue model and 79,- $US for the S. Wiesner Edition. Backers safe 20% to 30% on the final MSRP.
About COSYSPEED
Cosyspeed GmbH from Edertal/Germany is the first company in the world that specialises exclusively in accessories for mirrorless cameras (or Compact System Camera, CSC). All products are developed in Germany and are subject to strict German quality criteria. Production is carried out in Germany, Europe, Asia and Africa. Focusing on convenient and functional accessories for the daily routine of photographers using compact mirrorless cameras, Cosyspeed is concentrating deliberately on the new technology of the future in the area of digital cameras. Furthermore Cosyspeed is supporting development aid projects, such as the CAMPILLOW in Burundi/Africa.
All COSYSPEED products are vegan!