Hot Deal: Datacolor Spyder4PRO Display Calibration System – $99 (B&H)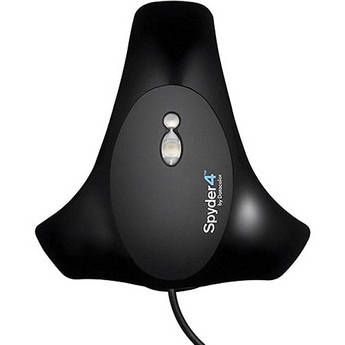 Hot deal at B&H Photo: For limited time or as long as supply last, get the Datacolor Spyder4PRO Display Calibration System for just $99 (instead of $169).
For Photographers/Creative Professionals
Match Prints to Their Displays
Patented 7-Color Sensor
Double-Shielded Filters
Use With Desktop/Laptop, iPad/iPhone
Works With Multiple Display Technologies
Adapts to Ambient Light Conditions
Mac/PC Compatible
Product description after the break.
Datacolor's Spyder4PRO is a display color calibration tool well-suited for photographers and creative professionals who need to match prints to their displays. It includes the ability to adapt to ambient light conditions.
The Spyder4PRO features a full-spectrum 7-color sensor that can accurately characterize a variety of wide-gamut and normal displays. Calibrate your monitor, laptop computer, or even an iPad or iPhone. The fourth-generation sensor employs double-shielded filters for longer life and optimal performance.
Please note! A dedicated video card is required for each display.
Automated Color & Brightness Calibration

Simple, clear, automated process makes it straightforward to calibrate your displays to a reference condition. You can view and edit images with confidence on a display calibrated to show true-to-life colors and luminance adjusted for precise shadow/highlight detail
Full-Spectrum Color Sensor

Patented 7-color sensor improves upon colorimeters that use 3-channel RGB sensors. Each Spyder4PRO unit is individually tuned in the factory to accurately handle a variety of wide-gamut and normal gamut displays with ease
Single Sensor Calibrates All Your Displays

Works with your desktop, multiple monitors, television (with paid software upgrade on website), iPad and iPhone; works with LCD, LED, OLED, CRT and other display technologies. You can calibrate up to four monitors on a single video card.
Improved Accuracy & Stability

The fourth generation Spyder4PRO has double-shielded color filters for an even closer match to CIE color standards and improved long-term stability. Average accuracy increased by 26% and consistency between Spyder units has improved 19%
Fast Re-Calibration Assistant

The "ReCAL" feature makes it quick and easy to recalibrate your display to compensate for changes that occur over time
Adapts Display to Surrounding Light

The lighting around you will affect image contrast and appearance. An additional sensor on the Spyder4PRO detects changes to surrounding light and adapts the display luminance accordingly