It's Almost Over: Last Hours Of Canon Rebates (DSRL, Lenses, Speedlites)
Folks, last hours of Canon rebates, it lasts until tomorrow, then it is over: The Canon rebates on selected DSLRs and lens bundles, and on lenses and Speedlites, that expire tomorrow, Saturday 2/2/2013.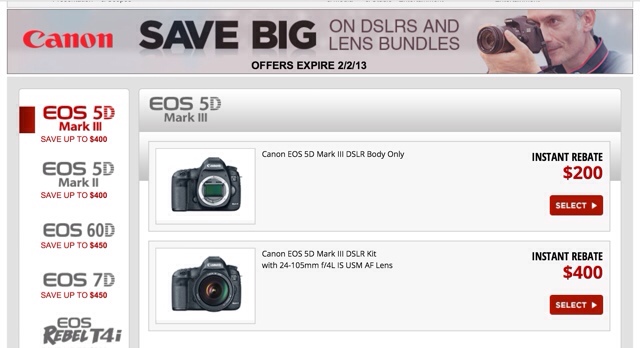 First, there are the Lens + DSLR combos, click here to check out possible combination. In any case you'll get concrete discounts.
Then, B&H has special offers on lenses and EOS 5D Mark III kits that will also expire on 2/2/2013. So hurry up if you want to get the deals. Savings go up to $400 for some lenses!
to see all lenses on rebate click here
Canon EOS 5D Mark III body only for $2,975 (click here), free: SanDisk – 16GB CompactFlash Memory Card Extreme 400x UDMA
Canon EOS 5D Mark III Digital Camera Kit with Canon 24-105mm f/4L IS USM for $3,499 (click here), free: SanDisk – 16GB CompactFlash Memory Card Extreme 400x UDMA