Olympus 300mm f/4 vs Canon RF 600mm f/11 – FF vs 4/3 Comparison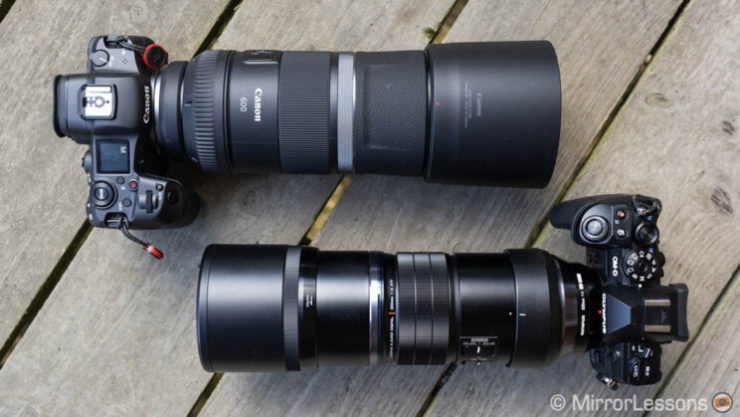 Somewhat unusual yet rather interesting comparison between the Olympus 300mm f/4 and Canon RF 600mm f/11 lenses.
Our friends at Mirrorless Comparison compared the Olympus 300mm f/4 and Canon RF 600mm f/11 lenses for wildlife and bird photography. The former is for Micro Four Thirds and the latter for full frame. From their conclusion:
Traditionally, micro four thirds has always been the system we mention when talking about travelling light and reducing size and weight. On the other hand, full frame is supposed to be the system with the big heavy lenses, but also superior image quality. Well, in our case here, some of these claims can be challenged (with a few catches).

The RF 600mm F11 (and 800mm F11) is a brilliant idea from Canon. I was interested when they announced it, then I was skeptical about the aperture, but now I'm happy to say I really enjoyed taking pictures with this lens, and I quickly forgot about the slow aperture. I was using something very light, with excellent quality, autofocus and stabilisation. I thought there would be more tradeoffs than that.

[…]

Where does that leave the Olympus solution then? Well, rest assured, it is still a very strong competitor. The faster aperture of the 300mm Pro easily makes up for the smaller sensor, you get a premium build quality with weather sealing, state of the art stabilisation and a few welcome features like being able to focus much closer to small subjects, which adds to the lens' versatility.

Read the review at Mirrorless Comparison
More comparison reviews are listed here.