[Patent] Canon Files Patent For 14mm f/2.8 Lens (better coating, low refractive index)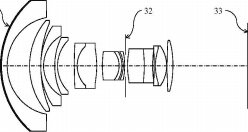 Egami (translated) spotted another patent filed by Canon. This time it is for a 14mm f/2.8 lens with improved coating (tubular coating):
It seems it is possible to realize a low-refractive-index low reflectivity by the structure below the diffraction limit, even without the uneven surface of the coating. 14mm F2.8 is what I want you to adopt all means patent coating of the lens as the front lens is large, yet is protruding.
Patent Publication No. 2012-159723

2012.8.23 Release Date
2011.2.1 filing date

Example 1

F = 14.3mm focal length
Fno. = 2.89
Half angle ω = 56.6 °
14 images in 10 groups lens configuration

Existing coating roughness

In daily use, dirt or dust may adhere, could not wipe, sex or bad Mentenasu productivity and manufacturing process

Canon patent

(Coating applied to one surface of a lens) thin film layer
Having a plurality of tubular spaces are arranged parallel to the tube
Maximum opening diameter of the tubular space below 400nm
The inorganic oxide materials (silica, titania)
[via
Egami
]