Photography Industry Health Check – Things are bad and going worse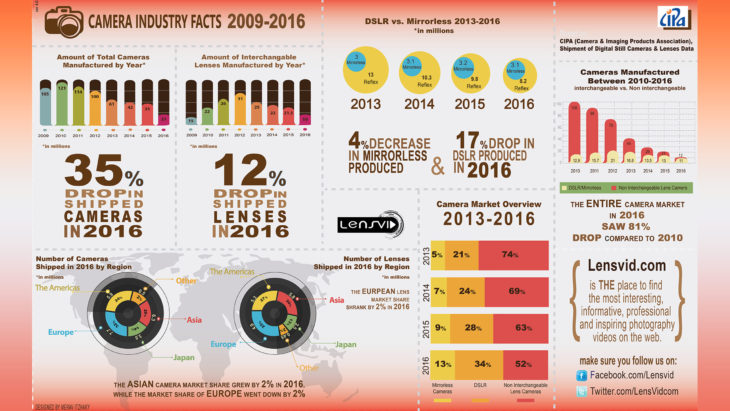 Click the image above to get a bigger view (courtesy lensvid.com)
Our friends at LensVid posted their annual analysis about the photography industry. They put an extensive look into what happened in the photography market in 2016. And things do not look good, definetly not.
To sum up the figures immediately: LensVid computed there was 81% less volume in 2016 than in 2010. This seems to be a pretty drammatic figure, which makes me wonder for how long the industry can cope with it. And it is not just about compact cameras, but DSLRs, MILCs, and lenses too.
Some points that are worth to spend a thought or two about.
Smartphones killed the compact camera market
Mirrorless are not fulfilling their promise
The DSLR market is shrinking
Cameras are for older people
I do not know if what is listed above explains what is going on. For sure always less people believes the "mirrorless-is-for-pros" fairy tale, and the whole mirrorless hype is going to slow down. That smartphones cut a significant market share was already known. And likely the young and very young would never think to start shooting with a DSLR instead of their smartphone.
LensVid also made some (cautious) predictions:
In 2017 we can safely predict that the entire global market for cameras will drop below 20 million cameras (or 1/6 of what it was in 2010).
Over the next couple of years camera manufacturers will continue to cut jobs – just like Nikon recently did after their announcement on major financial loses.
We will also see less innovation as less and less free money will be available for R&D.
The professional segment will get much more attention and camera and gear prices will increase (as production costs will rise due to the decreased production levels).
Can all the existing camera manufacturers survive this change in the market? so far most of them did, barely. However given the fact that this market will likely never return to the levels that we have seen in the beginning or even in the middle of the decade – we will not find it surprising at all if one or more of the main manufacturers will not be with us before the end of this decade.
If this story catches your interest, the video above takes you further, or you can head over to LensVid for the whole story.