R. Cicala's Take On The Metabones Speed Booster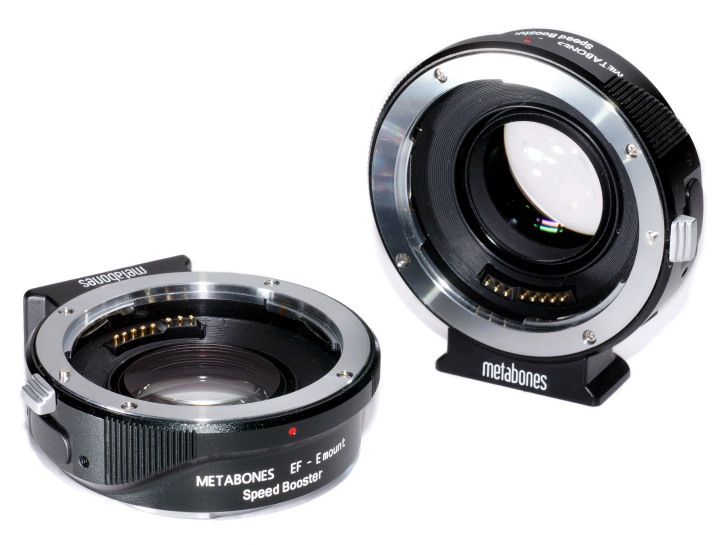 All in all – if this adapter does not send shock waves through the camera industry I don't know what will (Andrew Reid, EOSHD)
We reported yesterday about a full review of Metabones' Speed Booster by EOSHD. Now it's Roger Cicala's turn to have a take on what is going to be the most intriguing and amazing photographic piece of gear since long. As I wrote yesterday, the Metabones Speed Booster was designed by Brian Caldwell and Wilfried Bittner, both of well known engineering fame. Btw, Caldwell discussed and anticipated the Speed Booster months ago on the dpreview forum, writing:
Designing focal reducers to fit 35mm SLR lenses onto mirrorless Sony NEX and m4/3 cameras is most definitely feasible. The design isn't easy because there is very little room to work with, but if the magnification is restricted to 0.7x it can work surprisingly well at large apertures. Prepare yourself for optics as fast as f/0.90 by attaching a 0.7x (more accurately, 0.707x) reducer to an f/1.2 (more accurately, f/1.2599) SLR lens. And the reducer actually improves the MTF of the lens its attached to since it de-magnifies the aberrations.
So, we have two skilled engineers who claim to have done something that sounds like magic to most of us, we have a 30 pages white paper with all the technical and scientific galore, enthusiastic first impressions and reviews, and a lot of hype. EOSHD's review gave us a first glance that the Speed Booster is going to maintain what it promises: faster and wider Canon full-frame lenses on Sony APS-C and Super-35mm E-mounts, and that very particular full-frame look and feel that many videographers want but often cannot afford. Being able to get full-frame aesthetics using a $599 (click here) adapter on a $1000-$1200 Sony NEX-7 or a $800-$100 Sony NEX-6 makes a big difference, at least when compared to a Canon EOS 5D Mark III (price & specs) which comes around $2900 for the body only. Full-frame look on APS-C sensor gear! If that is not going to scare someone in the executive floors of some well known Japanese camera manufacturers, what will then?
Roger Cicala is known for his humor and a pretty sceptical and thoroughgoing approach when testing gear. He got a Speed Booster, and here comes his take. First, a short yet understandable description about how Metabones's wondertoy works:
A teleconverter spreads out the light leaving the lens so that only the center portion reaches the sensor. The result is the focal length of the lens seems longer (the image is magnified), but at the cost of reducing the amount of light (effective aperture) of the lens. The Speed Booster compresses the light leaving the lens onto a smaller image circle. This makes the focal length seem shorter and actually increases the amount of light reaching the sensor.

The EF to NEX Speed Booster, for example, changes the effective focal length x 0.71, and increases the maximum aperture by 1 stop. A Canon 50mm f/1.2 lens effectively becomes a 35.5mm f/0.9 NEX lens, for example. Videographers all over the internet were singing Hosannah and laying palm leaves along the path of it's introduction.
Roger did his tests using Canon EF 135mm f/2.0L USM (price & specs) and EF 50mm f/1.2L(price & specs) lenses on a Sony NEX-7. I really want you to jump over to lensrentals and read the test report on your own, it is full of insights and well explained technical stuff. However, I can't avoid to quote Roger's conclusion:
I think it was pretty obvious that I came armed for battle, ready to slam this product as some marketing overhype. I was wrong less correct than I might have been. The Speed Booster does what they claimed it would do, much to my shock and surprise. It creates a wider-angle, greater aperture lens while retaining resolution and acutance.

It does increase astigmatism a bit […] It also seems to create some highlight blooming at very wide apertures. […]

Most of the little foibles I've seen […] really only apply to photographers trying to tweek every drop of resolution out of their high-resolution sensor. Video, even 5k video, is more forgiving of a slightly weak corner or a bit of astigmatism.
[via
lensrentals]
Canon EOS 5D Mark III price check: B&H Photo, Adorama, Amazon USA, Amazon Canada, Canon Canada, Canon USA Sony NEX-7 price check: B&H Photo, Adorama, Amazon USA, Amazon Canada, Canon Canada, Canon USA Sony NEX-5N price check: B&H Photo, Adorama, Amazon USA, Amazon Canada, Canon Canada, Canon USA Sony FS100 price check: B&H Photo, Adorama, Amazon USA, Amazon Canada, Canon Canada, Canon USA