Reviews: Canon IXUS 255 HS (techradar), Powershot N (cnet) And Powershot SX280 (photographyblog)
Canon ELPH 330 HS
Amazon, B&H Photo, Digitalrev, eBay, Adorama, Canon USA
Specs:
12.1MP CMOS Sensor
Canon 10x Optical Zoom Lens
35mm Equivalent Focal Length: 24-240mm
3.0″ LCD Monitor
Continuous Shooting Rate of 6.2fps
Full HD 1920 x 1080 Video
Built-In Wi-Fi Connectivity
DIGIC 5 Image Processor
Intelligent IS Image Stabilization
Canon HS SYSTEM
techradar reviewed the WiFi-enabled Canon Powershot IXUS 255 HS (ELPH 330 HS in the US, available with a $30 discount for $199 at B&H and Adorama). In the conclusion they write:
Overall, the Canon IXUS 255 HS is a solid, dependable, easy to use point and shoot camera. With its full price of £230/US$230/AU$280, it sits comfortably in its price bracket, shared by rival cameras such as the rugged Fuji XP200, stylish Nikon Coolpix S9500 and ultra wide-angled Panasonic SZ9.

You can power on and take a shot within a matter of seconds, making it almost as quick to use as your always-to-hand smartphone, but with a resulting image quality that far outstrips its mobile competitors. It also offers an array of useful functions without cramming too much in for gimmick value, making it simple and easy to handle.

The Canon IXUS 255 HS is capable of producing some excellent images, with plenty of detail and vibrant colours. Pleasingly, we also found the HD video shooting to be good, making it useful for those who want to shoot the occasional home movie too.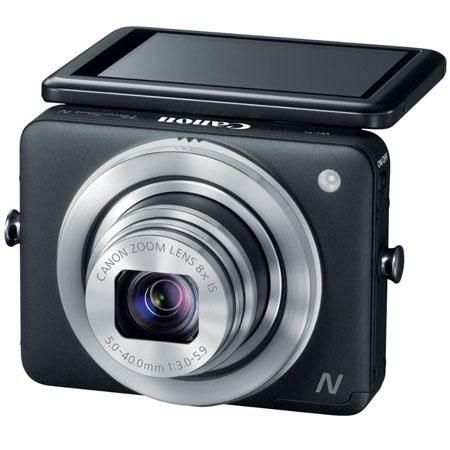 Canon Powershot N
Amazon, B&H Photo, Digitalrev, eBay, Adorama, Canon USA
Specs:
12.1MP High Sensitivity CMOS Sensor
DIGIC 5 Image Processor
8x f/3.0 Optical Zoom Lens
28-224mm Focal Length Equivalency
2.8″ Capacitive Tilt-Touch LCD Panel
1080p Full HD Video Capture
Built-in Wi-Fi Connectivity
One-Touch Mobile Device Connect Button
Creative Shot Mode
cnet reviewed the WiFi-enabled Canon Powershot N ($299), a true fun-cam. In the conclusion they write:
The Canon PowerShot N acts as a nice complement to a smartphone camera. You get some optical zoom with excellent optical image stabilization, very good photo and video quality (certainly better than typical phone camera quality), and built-in Wi-Fi so you can still share your shots almost as easily as you can when you shoot with your phone. And it's all in a tiny attention-grabbing package.
Specs:
12.1MP High-Sensitivity CMOS Sensor
DIGIC 6 Image Processor
20x Optical Zoom Lens
35mm Focal Length Equivalent: 25-500mm
3.0″ LCD Monitor
Full HD 1080p Video Capture at 60fps
Built-in Wi-Fi Connectivity
Intelligent Optical Image Stabilization
Hybrid Auto Mode
GPS Tracker
Finally, photograhpyblog reviewed the WiFi and GPS-enabled Canon PowerShot  SX280 ($329). In the conclusion they write:
The same 25-500mm, 20x zoom lens offers a broad focal range that makes it possible to frame up subjects near or far in pretty much an instant, pretty amazing given the size of the SX280 HS which is only a little larger than most compacts. The GPS system has been speeded-up, so that the waiting time for a lock on the nearest satellite is shorter, while wi-fi makes its first appearance on a Canon travel-zoom. As with Canon's other wireless compacts, though, it doesn't offer all of the features of rival systems and is a little difficult to both setup and use. Using both GPS and wi-fi quickly drained the battery, so buy a couple of spares if you want to take full advantage of the camera's features.