Save On Lexar Professional 1066x UHS-I SDXC Memory Cards (2-packs, 64 & 128GB)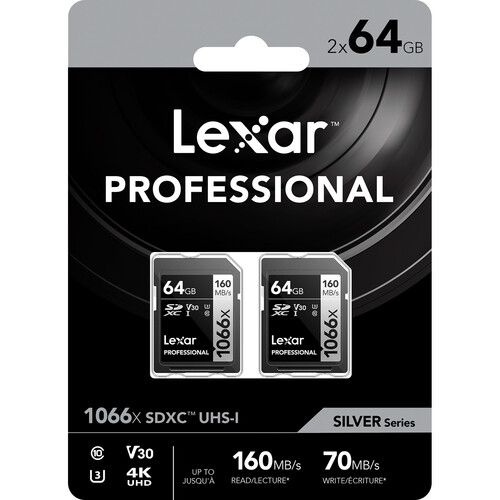 Good deal on Lexar Professional 64Gb and 128GB 1066x UHS-I SDXC memory cards at B&H DealZone.
At a glance:
128GB Capacity per Card
UHS-I / V30 / U3 / Class 10
Max Read Speed: 160 MB/s
Max Write Speed: 120 MB/s
Min Write Speed: 30 MB/s
Records Full HD, 3D, and 4K Video
Water / Shock / Vibration / X-Ray Proof
Can Withstand Temperature Extremes
Built-In Write Protect Switch
Get the Lexar 64GB Professional 1066x UHS-I SDXC Memory Card (SILVER Series, 2-Pack) on sale at $29.99 (reg. $34.99) or get the Lexar 128GB Professional 1066x UHS-I SDXC Memory Card (SILVER Series, 2-Pack) on sale at $49.99 (reg. $64.99).
---
Hand-picked deals are listed here.
Deal pages:
Refurbished lenses and DSLRs at Canon Store (best deals might be found here)
Save $10 on Luminar 4 and/or Aurora HDR 2019 using our code "WATCH" at checkout.
Designed for mirrorless and DSLR cameras, the 128GB Professional 1066x UHS-I SDXC Memory Card (2-Pack) from Lexar lets you quickly capture and transfer high-quality photos, including Full HD and UHD 4K video with read speeds of up to 160 MB/s and write speeds of up to 120 MB/s. All of this allows you to dramatically accelerate your workflow. These cards have each been built with a capacity of 64GB and the V30 Video Speed Class rating, which guarantees minimum write speeds of at least 30 MB/s. To help increase durability, Lexar made these cards resistant to water, shock, vibration, x-rays, and temperature extremes. A built-in write protect switch will help guard your data from accidental erasures.
General Features
Quick Transfer Content
These cards leverage UHS-I technology to deliver read speeds of up to 160 MB/s, allowing you to transfer high-quality photos and 4K UHD video with ease
Capture the Action
Capture high-quality images and extended lengths of Full HD and 4K UHD video with maximum write speeds of 120 MB/s. These cards are UHS Speed Class 3 (U3), and Video Speed Class 30 (V30), giving you the performance you need to shoot faster and longer.
Load Apps Quicker with A2 Speeds
With the Application Performance Class 2 (A2) rating, these cards are also great for use with applications on your Android smartphone. Quickly run and store apps directly on the A2 memory cards using an Android Adoptable storage enabled device.
Designed for Durability
Lexar Professional SD Cards provide the durability you need to capture and store valuable data in a variety of elements. These cards are rigorously tested, and designed to be resistant against water, shock, vibration, and x-rays.
Rigorously Tested
All Lexar product designs undergo extensive testing in the Lexar Quality Labs, facilities with more than 1100 digital devices, to help ensure performance, quality, compatibility, and reliability.