Sigma 50mm f/1.4 Art Lens: Price Shows Up At Australian Retailer ($999, says first batch ships in June)
Are $999 the price for the upcoming Sigma 50mm f/1.4  DG HSM "Art" lens?
The price for the Sigma 50mm f/1.4 Art showed up at Australian retailer DigiDIRECT, where the lens can be pre-ordered. But there is more. On DigiDIRECT's Facebook page there are some interesting statements:
You've waited patiently and now it's almost here! We're super stoked to announce that we are taking pre-orders for the incredible new Sigma 50mm f1.4 ART series lens. The very first batch is expected to arrive in small quantities in June this year.
and:
Final RRP in Australia is $1099. We are currently offering our advertised price on all preorders that we receive.
There has been another "price leak" before, but this one could be the real thing. 1099 AUD are roughly $999. If this is the price of the Sigma 50mm f/1.4  DG HSM "Art" then it would be an extremely competitive price for a lens that aims to play in the same league as the Zeiss Otus 55mm f/1.4, which is a $4000 lens.
As much as this appears to be a serious product page and not a mistake or else, there is one small thing that puzzles me a bit. If you look at the pic on top you see that it shows $999 (AUD) as the price, and on the right of it the strikethrough price of $1099. So, a lens that has yet to ship is already discounted? Note also that on the FB page it's AUD 1099 that are mentioned.
A few days ago also Sigma Bielorussia posted a price suggestion ($790) for the Sigma 50mm f/1.4, but soon replaced it saying that the price will be known after the 11th of April (see pic below).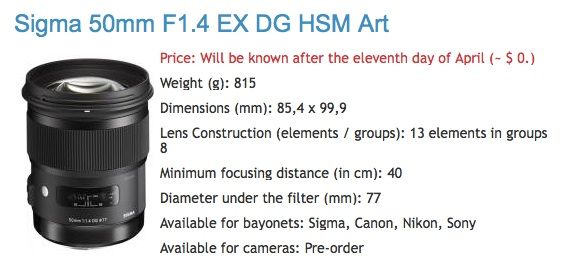 US$ 999 for the Sigma 50mm f/1.4 Art lens, what do you think?
All post about the Sigma 50mm f/1.4 Art here.
[via
Sigma Rumors
]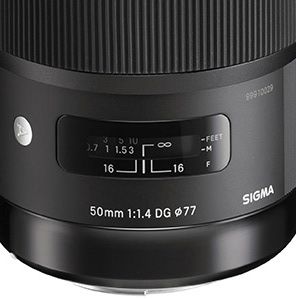 Product description after the break.
Art line delivers high-level artistic expression 
SIGMA is organizing all its interchangeable lenses into three product lines; Contemporary, Art, and Sports, where each line has a distinctive concept. Designed with a focus on sophisticated optical performance and abundant expressive power, our Art line delivers high-level artistic expression. With the astonishing rendering performance that meets the high standard, along with landscapes, portraits still-life, close-up, and casual snaps, they are perfect for the kind of photography that unleashes the inner artist. Ideal for studio photography, they offer just as much expressive scope when capturing architecture and starry skies and many other scenes.
Astonishing rendering performance 
Utilizing know-how and the latest design technology accumulated through the past developments, it corrects the aberration thoroughly and achieves high resolution and astonishing rendering performance even near the edge of the image.
Achieving both high resolution and beautiful bokeh 
While pursuing a high level of resolution on the focused point, bokeh in front and behind the point of focus is carefully maintained to have soft rendering. Aberrations including sagittal coma flare and color distortion that affect the image quality are thoroughly corrected. From open aperture, high-definition rendering without blur is achieved. Moreover, by ensuring vignetting at the minimum and preventing color blur around the front and back of the focus point, it also achieves natural bokeh.
Excellent correction of sagittal coma flare 
It is ideal for a wide aperture standard lens to have a high rendering performance from open aperture throughout the entire image. For instance, the molded glass aspherical lens elements provide excellent correction to sagittal coma flare. It is perfect for astronomical photography and shooting of illumination because of the reduced blur on the point light sources near the edge of the image. It also creates an attractive bokeh in portraits and indoor shooting.
Hyper Sonic Motor ensures High AF Speed 
The HSM (Hyper Sonic Motor) ensures a silent, high-speed AF function. Optimizing AF algorithm, smoother AF is achieved. It also enables full-time manual focusing capability which allows sensible focus adjustment by simply rotating the focus ring.
New Customizing Option added to "SIGMA USB DOCK" 
With the optional SIGMA USB DOCK and the dedicated special software "SIGMA Optimization Pro", you can update your lens firmware, or adjust focus points by attaching this lens to a SIGMA USB DOCK connected to a computer.
[Other Features] 
Incorporating Rounded Diaphragm 
The 9 blade-rounded diaphragm creates an attractive blur to the out-of-focus areas of the image.
Design Concept 
With the new product lines, supplied hoods incorporate rubber for the connected part. Lens caps and AF/MF switches are also newly designed in order to improve usability. For the parts inside, metals and a new material called TSC (Thermally Stable Composite), which works well with metals, are located to achieve products with high accuracy. The lens barrel includes the year of release, engraved for users to recognize when the lens was released.
Brass made bayonet mount 
This lens incorporates a brass made bayonet mount which has both high accuracy and durability. A special treatment to reinforce its strength is applied to the surface giving it greater strength and making it highly resistant to long-term use.
Evaluation with Sigma's own MTF measuring system "A1"
We used to measure lens performance with MTF measuring system using conventional sensors. However, we've now developed our own proprietary MTF (modulation transfer function) measuringcharacteristics of digital cameras, such as compensating peripheral brightness, controlling the point images in the corners, and improving the image drawing, not only around the focusing point, but also other areas in the image.
Corresponding AF Mounts: SIGMA, Canon, Sony and Nikon
Accessory: Case, Petal-Type Hood (LH830-02) supplied.