Sigma unveils heat-treated ceramic glass lens protector filters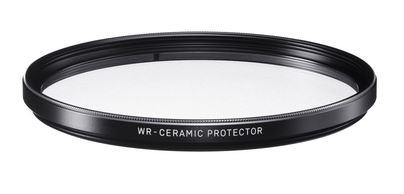 Sigma unveiled WR (Water Repellant) Ceramic Protector filters. These protective lens filters are claimed by Sigma to be "world's first highly shock-resistant and scratch-resistant clear glass ceramic protective filter". The core specs are:
10x the strength of a conventional protective filter and 3x the strength of a chemically hardened glass filter
Optically clear ceramic glass offers extremely high transmittance
Water-repellent (WR) coating reflects only 0.24 percent of visible light, thereby minimizing flare and ghosting

Sigma states that their WR Ceramic Protector filters allow for 99.76% light transmission. 67mm, 72mm, 77mm, 82mm, 86mm, 95mm and 105mm sizes will be available. Pricing and availability are not known for the time being.
The video below gives an overview about Sigma's WR Cermaic Protector filters.
[via
DIY Photography
]