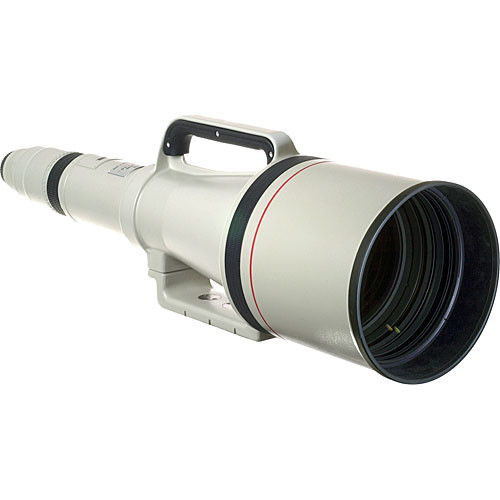 B&H Photo posted a long review about Canon's legendary EF 1200mm f/5.6 lens. The review comes with some historic facts too. It's speculated that Canon made less than 2 dozens of this lens (it appears even Canon can not tell how many they made).
The Canon EF 1200mm f/5.6 L USM lens was born with the Canon FD mount and reportedly first appeared in 1984, at the Summer Olympic Games in Los Angeles, California. Five lenses were used by the media to cover the Games and then the lenses were shipped back to Japan and later converted to the EF mount. According to Canon, this is the longest lens in the world with full autofocus capability.

Canon made this lens available by special order only. A $10,000 deposit was required with the order and manufacturing would only start when several lenses were put on order. Sports Illustrated magazine purchased two 1200mm lenses in the 1990's. Canon lent a lens to the St. Louis Post-Dispatch in 1999, so they could document Major League Baseball slugger Mark McGuire's single-season home-run record attempt from center field; photographing every pitch McGuire faced that season. The extreme focal length of the lens gives a unique perspective of the distant view from the outfield fence that other lenses cannot capture.
Definitely a interesting read. For more about the EF 1200mm lens head over to B&H Photo's review. The Canon EF 1200mm f/5.6L lens is on sale at B&H Photo for $180,000. A single, used unit in good condition. Act fast as this "super deal" won't last long ;-) Canon has a dedicated page for the EF 1200mm, or check Wikipedia.