The 5DayDeal 2018 Photography Bundle Is Now Live (and it's just $89)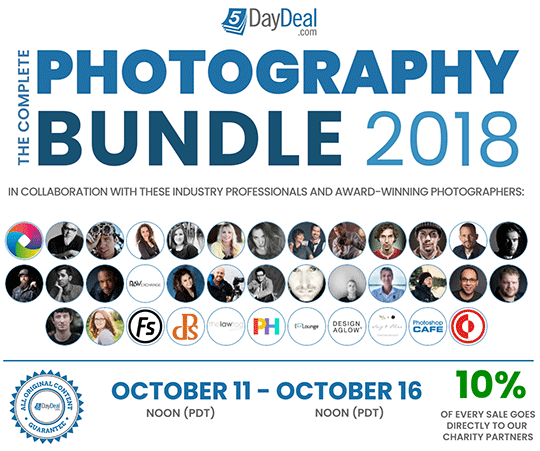 The annual 5DayDeal Photography Bundle is live and available to the public for $89. This is a valuable resource, you get a lot of education and tutorial stuff. And for $89 you get stuff worth some thousands of US$. It lasts 5 days and then it's over until next year.
Stop wasting time and money online trying to piece together the skills you need to create stunning photographic work — learn from the professionals that deliver the goods. The resources in this bundle come from accomplished and notable photographers and digital artists whose creative work and teaching acumen are known around the world.
At a glance:
Get the training you need to create amazing landscapes
Learn the best techniques to bring the starry-night sky to life
Gain insights on traveling with your camera stress-free
Use an industry-vetted model release written by a lawyer
See how the magic happens during a pro model shoot
Take the mystery out of post-production by using easy presets
Book more weddings and make them creative and stress-free
Tell better stories by learning the art of great composition
Learn how to fly a drone like a pro and create visuals that pop
Turn your technical skill into the creative expertise you crave
Master the art of editing in Adobe Lightroom and Photoshop
Create stunning fine art with pro textures, overlays and presets
Learn how to shoot on-location with a small, or zero, budget
Make your next portrait session more creative with better posing
Save time and money using the same editing tricks the pros use
Edit your photos using dodge and burn techniques that work
Use professional email scripts to attract more business
Produce captivating B&W photographs that reflect your style
Learn how to use color grading to edit more stronger portfolios
Develop your own digital workflow that makes editing faster
Turn your creative passion into a craft you're proud of
Grow as a photographer by learning from seasoned pros
Ditch the fear of learning photography from scratch
Learn how to become the artist you've always wanted to be
This unique bundle has been curated exclusively to help photographers save time and money, to push their technical and creative skill, and advance their career. Get the resources you need, from the industry professionals you trust, at a price you can afford instead of paying a lot of money over months and years.
Whether you're a photographer looking to do more or a diehard professional, there's something in this bundle for everyone — and the savings are remarkable. This bundle is a once in a lifetime collection of expert training, tutorials, eBooks, software, and digital tools for all levels of photography enthusiasts — there's something awesome for everyone. This is your only chance to save over 97%. Learn more about the 5DayDeal bundle here.