This is the upcoming Kamlan 28mm f/1.4 lens for Canon EOS M systems (and other MILCs)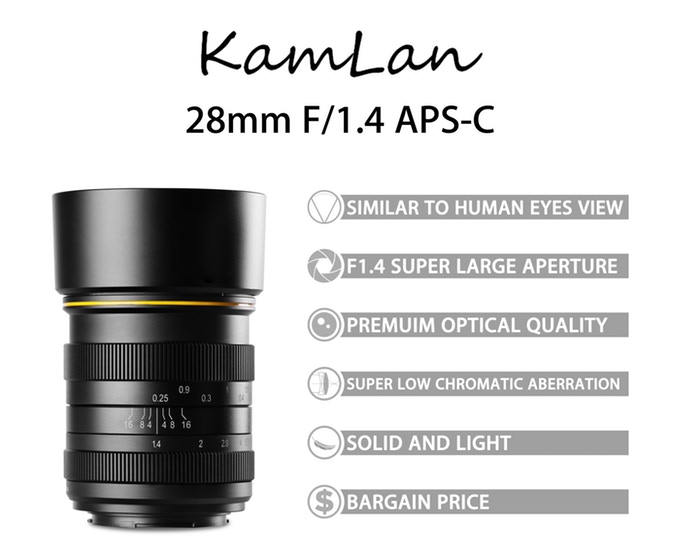 Machang Optics announced the development of the Kamlan 28mm f/1.4 lens. The Kamlan 28mm f/1.4  will be available for Canon EOS M systems, and for Sony E, Fuji X, and M4/3 mounts.
Starting from June 1, 2018, you'll be able to order it for $199 on this Kickstarter page (where you can also view a gallery of sample images). Delivery is expected for August 2018.
28mm are 42mm equivalent when used with APS-C bodies, so this becomes a normal view lens on crop sensors.
Kamlan 28mm f/1.4 product description excerpt:
The Kamlan 28mm f/1.4 sports an all metal and glass design with a premium feel that belies its inexpensive price tag. The manual aperture ring is declicked, allowing videographers to make smooth aperture changes while retaining traditional aperture stop markers for stills photographers. The manual focus ring is incredibly smooth and perfectly damped, allowing for smooth and accurate focus results across the 160 degrees of focus travel. The quality of the focus and aperture rings is that of a premium lens.

The lens has a metal 52mm front filter thread, and the lens hood is included to allow for shading from the sun along with protection for the lens. The lens is well corrected for chromatic aberrations, allowing for minimal color fringing even at very wide apertures.

We have designed a new premium metallic lens hood for the New Kamlan 28mm F1.4, which employs a threaded connection for a firm, easy to use connection. The lens hood has built in filter threads to allow for the use of filters even with the hood attached […]

One of the key strengths of the Kamland 28mm f/1.4 is its high degree of color accuracy and richness. Unlike some competing lenses, it does not introduce too much color cast to images but instead delivers a neutral, accurate color rendition even wide open, that will be useful to both stills photographers and video users as well.

The lens utilizes high quality optical glass with higher levels of refraction to help shape light more efficiently and to produce lower chromatic aberrations. Chromatic aberrations are noticeably more controlled than on competing lenses.

In real-world shooting there are minimal chromatic aberrations on the Kamlan 28mm f/1.4, and what aberrations do exist are easily corrected.
Kamlan lenses are available on Amazon US, Amazon DE, Amazon UK.
[via
Mirrorless Rumors
]