Today Only: Canon XC10 4K Professional Camcorder – $999 (reg. $1599)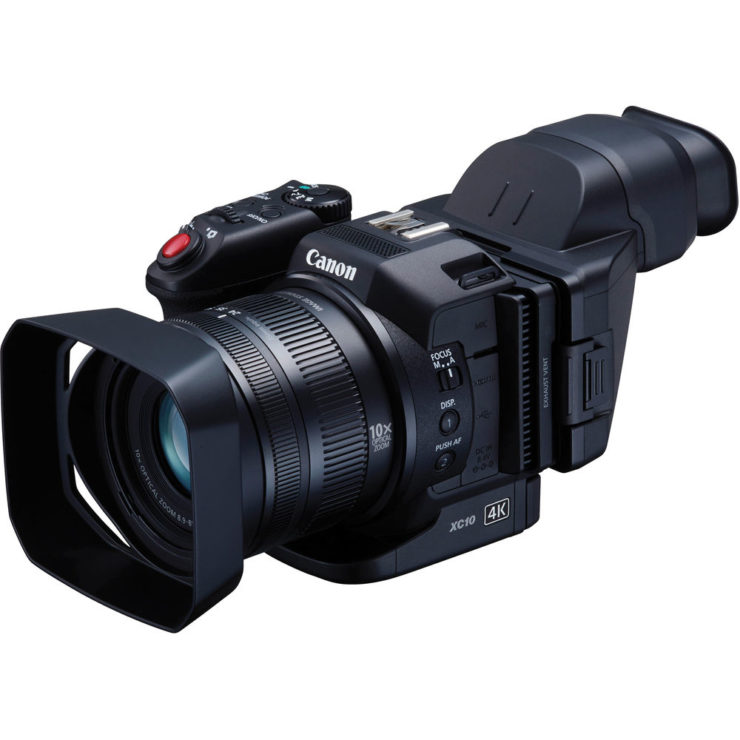 Only for today (12/6/2021) B&H Photo has a 38% discount on the Canon XC10 4K Professional Camcorder.
At a glance:
1″ CMOS Sensor and DIGIC DV 5 Processor
UHD 4K at 29.97/23.98p
H.264 Recording in MXF Wrapper
Up to 305 Mb/s 4K, 50 Mb/s HD Recording
SDXC/SDHC and CFast Card Slots
HDMI Output, Supports 4K Monitoring
10x Zoom / 8.9 to 89mm Focal Length
100 to 20,000 ISO Range
Ergonomic Tilting Handgrip
Get the Canon XC10 4K Professional Camcorder on sale at $999. Compare at $1,599.
More deals:
With the XC10 4K Camcorder from Canon, professional Ultra HD 4K recording capability is presented in a package ergonomically designed for handheld operation and portability. The camera incorporates a 10x f/2.8 to 5.6 SLR-style manual zoom lens with auto and manual focus capability. The 4K recording in a compact form factor is made possible by the camera's 1″ CMOS sensor that is backed by a DIGIC DV 5 image processor. With a 4224 x 3164 total resolution, it can capture video at up to 3840 x 2160 and 4:3 photos in up to 12MP (4000 x 3000). The 8.9 to 89mm lens yields a 35mm equivalent focal length of 27.3 to 273mm in video mode, and 24.1 to 241mm in the 4:3 photo modes. Video is recorded with H.264 compression and packed in the widely supported MXF wrapper. Bit rates of 35 and 50 Mb/s are available for 1080i/p recording, and there are 205 and 305 Mb/s modes (depending on frame rate) for UHD 4K.
The size of the XC10 lends the camera to run-and-gun applications, such as documentary and many types of event shooting, where the larger form factor of an interchangeable lens cinema camera or DSLR might prove impractical. Another use case for high performance in a small body is mounting on a medium-sized UAV such as a hexa-rotor. The camera features a hot shoe that supports Canon speed lights or works as a standard cold shoe for LEDs, microphones, or other third-party on-camera accessories. Still photos, user settings, and video up to 1080p are recorded to SDXC/SDHC memory cards. To handle the up to 305 Mb/s bit rate of 4K video there is also a CFast card slot. Compatible memory cards and card readers are available separately.
DIGIC DV 5 Image Processor
Designed and built by Canon, the DIGIC DV 5 image processor uses proprietary circuits and architecture designed to retain high image quality with minimal compression artifacting, even when applying complex compression algorithms such as those required by H.264. It maintains low power consumption and minimal heat output for better battery life and less chance of overheating
Canon Log Gamma and Wide DR Gamma
Canon Log records an image with subdued contrast and sharpness, which preserves a high dynamic range and presupposes color grading in postproduction. Canon Log Gamma emphasizes rich gradients from midrange to highlights, resulting in up to 12 stops of dynamic range

For those who would rather not grade in post, Wide DR Gamma yields wide dynamic range by suppressing brightness while maintaining gradations, but is designed to produce finished-looking images without requiring any color grading in post-production
100 to 20,000 ISO Range
With a wide ISO range of 100 to 20,000—coupled with iris and shutter speed control—the XC10 can electronically adjust to a range of lighting conditions, from broad daylight to dimly lit rooms. For those more experienced in the video world, there is also the option to use gain values rather than ISO. Gain can be set in the range of 0 to 42 dB. To help avoid excessive noise, limits can be defined for both gain and ISO when using auto exposure modes
3″ LCD Display
For monitoring, playback, and menu access, the XC10 features a 3″, 1,030,000-dot LCD. It features full 100% coverage, so there is no need to worry about pesky boom mics or other protrusion creeping unnoticed into the edge of a shot. The screen is capacitive-touch sensitive, allowing you to access settings that do not have dedicated buttons provided
CFast and SD Card Slots
For every day photo and video capture (up to 1080p), there is an SDXC/SDHC card slot. An SD card can also be used to store user customizations. To accommodate the up to 305 Mb/s that 4K video capture requires there is a separate CFast card slot
720p High Frame Rate Recording
Capture either 100 fps for PAL, or 120 fps for NTSC, to create slow-motion effects. These high-speed frame rates are recorded in either 35 or 50 Mb/s
Ergonomic Design with Tilting Grip
You can always mount the XC10 on a tripod or other stabilization device, but it is designed to be comfortable handheld as well. The handgrip features a photo/video mode selection toggle, record start/stop button, and exposure rotary, all accessible by index finger for easy one-handed operation. The grip also tilts up to 90°, helping you shoot from high or low angles
SLR-Style Lens Operation
The 10x optical zoom lens features dedicated focus and zoom rings, providing the feel of a typical DSLR lens