Today Only: Save Up To 50% On Tiffen Variable Neutral Density Filter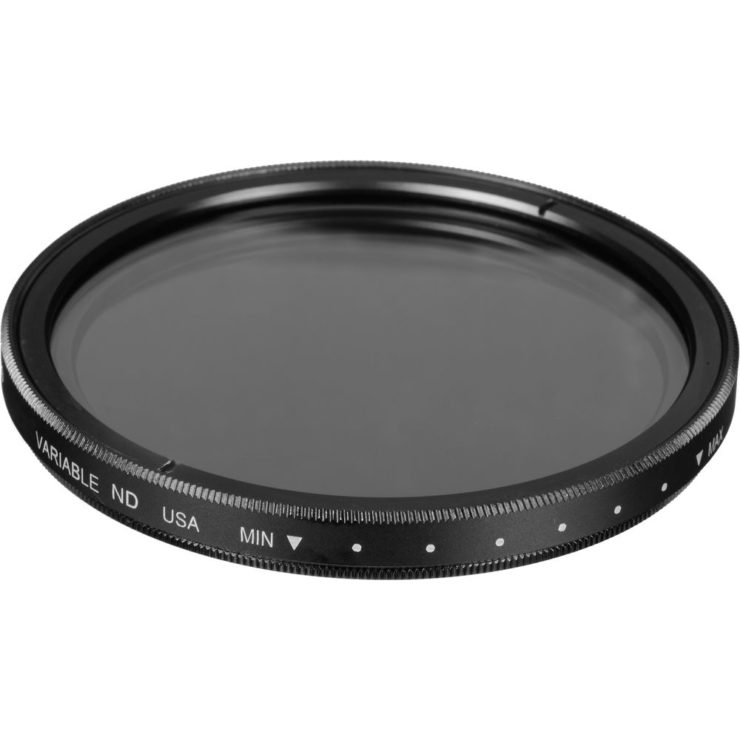 Only for today (9/2/21) B&H Photo offers up to 50% discount on Tiffen variable neutral density filters.
At a glance:
Provides 2 to 8 Stops of Light Control
Rotating Ring to Choose Degree of ND
Eliminates Buying Many ND Filters
Use to Create Blurs/Special Effects
Use with Film or Digital
Wide Outer Ring Reduces Vignetting
Black Aluminum Filter Ring
ColorCore Glass
Made in the USA
Three Tiffen filters are discounted. You can save additional $20 if you apply for the mail-in rebate:
---
Get the SanDisk 128GB Extreme PRO UHS-II SDXC memory card on sale at $149.95. Compare at $199.95. A $50 discount is applied in cart.
Hand-picked deals are listed here.
Deal pages:
Refurbished lenses and DSLRs at Canon Store (best deals might be found here)
Save $10 on Luminar 4 and/or Aurora HDR 2019 using our code "WATCH" at checkout.
The Variable Neutral Density Filter from Tiffen offer a unique way of maintaining total control over your depth of field as well as presenting an efficient way to create some special effects. The filter is designed with a built-in rotating ring that controls neutral density ranging from 2 – 8 stops (0.6- 2.4). The heavier the density, the slower your shutter speed will be. This longer exposure allows the shutter to remain open long enough to record the same amount of light but will also create movement within the shot. Another major benefit of this filter is the elimination of having to buy and carry around individual neutral density filters. With this one filter, you can rotate to the degree of ND you want – a real time and money saver.
Simply mount the filter on your lens, set it to "Min" density then frame and focus. Care must be taken with focusing at heavier densities to make sure focus is accurate. However, if it isn't, switch to manual focus and rotate to the desired degree of filtration.
For example, if your standard exposure without the filter is 1/500 @ f/8 and you then set the filter to "Min", you change the shutter speed to 1/125 at the same aperture – thereby losing 2 stops of speed while gaining a hint of "blur" in the image. If that's not enough filtration, continue rotating the filter until you reach the shutter speed you desire. Using the above example, you can even get down to 1/2 second @ f/8 (8 stops). It should be noted that the calibration marks on the filter ring are to be used only for reference and should not be regarded as accurate settings for specific densities.
A Neutral Density filter is used to create some unusual special effects such as capturing the "blur" of the rippling water of a waterfall or the swirling effect of city traffic. Since it allows the use of slower shutter speeds in bright light, it becomes possible to create these special effects that would normally not be possible to capture without the filter. And, since it can also help to control your depth of field, it permits you to shoot at wider apertures. Ultimately, its value is in helping to prevent bright, overly washed out images shot in bright light.
The ColorCore process allows Tiffen to control the color and density of their filters, and the characteristics of special effects filters with much greater accuracy than typical dyed-in-the-mass filters, which usually exhibit color and density variations. In this way, Tiffen can better control the various densities of their filters and thereby create more exact degrees of filtration.
Thin Profile Ring (9mm) – The wider front filter ring helps reduce the possibility of vignetting (the darkening of corners) at wide angle and is not deep enough to accommodate a lens cap
It allows you to have continuous control over the amount of light coming through your lens in an approximate range of 2 (ND 0.6) to 8 (ND 2.4) stops
Neutral Density Filters Have Four Main Uses
To enable slow shutter speeds to be used, especially with high speed ISOs, to record movement in subjects such as waterfalls, clouds, or cars
To decrease depth of field by allowing wider apertures to be used, which helps separate subjects from their background
To decrease the effective ISO of high speed film (above ISO 400) and allow it to be used outdoors in bright situation
To allow cine and video cameras (which have fixed shutter speeds) to film subjects such as snow, sand or other bright scenes which could cause overexposure
ColorCore Technology
The ColorCore process allows Tiffen to control the color and density of their filters, and the characteristics of special effects filters with much greater accuracy than typical dyed-in-the-mass filters, which usually exhibit color and density variations. In this way, Tiffen can better control the various densities of their filters and thereby create more exact degrees of filtration
Tiffen, a leader in the filter industry, proudly makes its filters in the USA and backs up its products with a solid 10-year warranty