US Deals: EOS 60D Bundle With EF-S 18-135mm, And More For $899 (and other deals)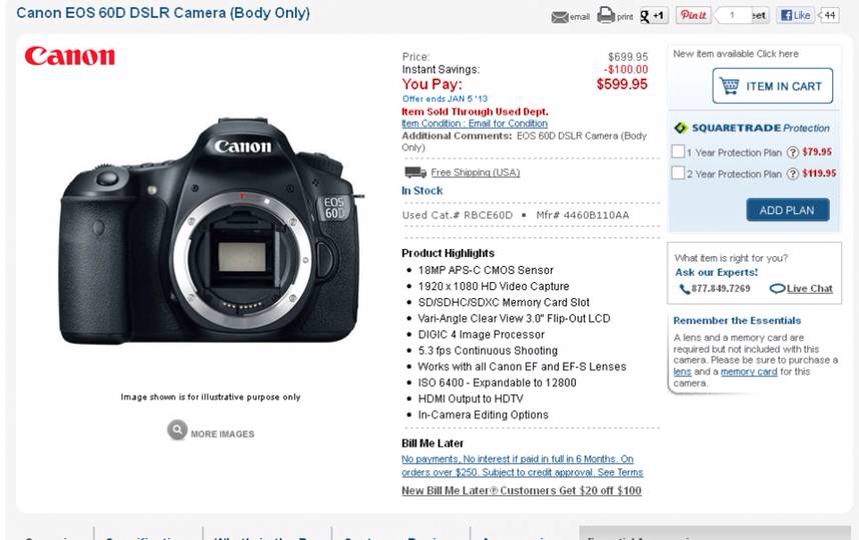 Cool deal on sale at B&H: get the Canon EOS 60D, and the following items for an insane $899 (click here):
Canon EF-S 18-135mm IS Lens

Lexar 16GB SDHC Memory Card Professional Class 10 UHS-I

Vello FreeWave Wireless Remote Shutter Release (Canon Sub-Mini Connection)

Pearstone LP-E6 Lithium-Ion Battery Pack (7.4V 1450mAh)

Lowepro Rezo 170 AW Camera Shoulder Bag
The final price shows up when added to the cart.
And there is more. Get the EOS 60D refurbished for $599.95 (click here)
The EOS 5D Mark III for $2999 (click here), when added to the cart.
The Canon EOS 6D with 24-105mm f/4.0L IS USM AF Lens for $2699 (click here). The offer includes
Lowepro Rezo 170 AW Camera Shoulder Bag

Transcend 32GB SDHC Memory Card Class 10
With the same items as above you can get the EOS 6D body only for $2099 (click here)
Finally, there are deals on Sandisk Pro cards (click here)