Canon's EOS 5D Mark III has such an amazing high ISO performance that I want to report more about this. It is, together with the advanced AF system and the fast burst rate, one of the features that make the 5D Mark III so much superior to its competitors (say…Nikon D800?). Ok ok, this is my opinion.

Canon did the right thing when it did not put a high-res sensor in its new, year 2012, full-frame camera. Sailing upwind against the waves, Canon decided to keep a conservative resolution (22MP), to re-engineer the sensor and to update each and any system component. The result was a rock-solid performing camera, with (among other feats and tweaks) extended dynamic range, fast burst shooting, an advanced AF system, and an above-the-average ISO performance. I don't think the 5D Mark III can be seen as a mere upgrade of the Mark II. It's a new camera. Starting by the sensor, which got the gapless microlens technology of the EOS 1D X and has bigger photodiodes (more light) than its predecessor. Moreover, each photodiode has its own immediate noise processing of the transmitted signal. It's the edge of imaging sensor technology, and Canon has always been one of the biggest innovators in this domain. Even Nikon knows this simple fact, that's why they used a 5D Mark II to shot the D800 promo (click here).

Sony's NEX 7 is not really in the same league as the EOS 5D Mark III, nevertheless I think a comparison of ISO performance is interesting. The NEX 7 is a great cam and we are curious to see how it performs compared to other new cameras, even if they have different sensor sizes (the NEX7 has an APS-C sized sensor). Mike Kobal did a extreme low-light (using candles!), high ISO test: 200-25600 on the 5D Mark III and up to 3200 on the NEX 7. How does the NEX 7 compare to Canon's new EOS? See for yourself…
I know what some of you will say: not scientific, not fair. Well, I love not scientific tests

and its not about fairness, its about comparison. The EOS 5D Mark III has an exceptionally good high ISO performance. Period. The 5D Mark III can take pictures and video in candlelight and the NEX 7 cannot. Period.
Let me cite Mike:
The most challenging part during this test was keeping focus on the eyes, Cineroid EVF attached to the Canon 5D3 with Kit lens, shot at 105mm at f4, wide open, a vintage Minolta 35-70mm f4 wide open on the Sony Nex 7 (via LA EA2 adapter). Ungraded footage, Color style, Neutral, Color tone -4, Saturation -4, contrast -4, sharpening 0, no adjustments in post – footage looks even better at 50mbps, highest output for H264 in pp, however, the result would be a +1GB file. I am really impressed with the level of detail all the way up to 25.6k and the lack of noticeable color shift up to ISO 20k, only at 25.6k reds turn magenta! I can't wait to start shooting with this camera!
At the same ISO setting, the 5D Mark III shows all the power its full-frame sensor. I have four crops (credits: Mike Kobal) for you to compare, shot at ISO 1600 and 3200. First crop from the NEX 7 footage, second one from 5D Mark III's, we start with ISO 1600.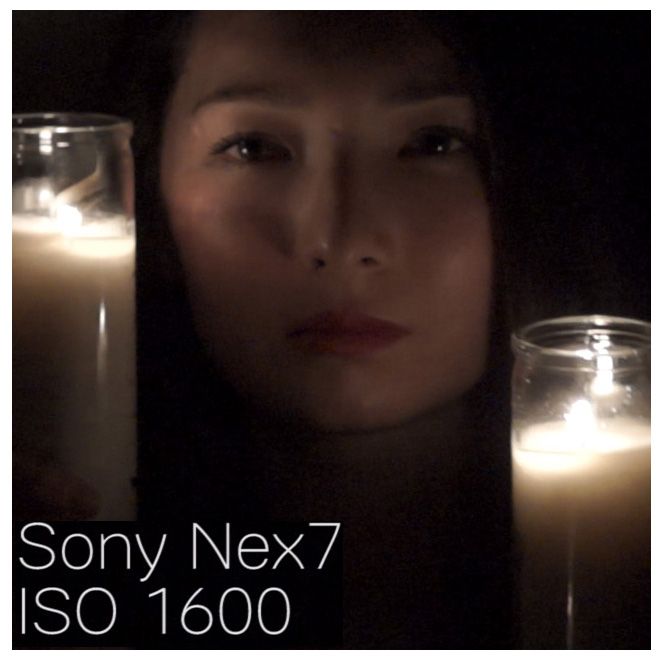 ISO 1600 is one stop before the highest ISO on the NEX 7, noise already visible in the NEX7 crop. Next, the two crops shot with ISO 3200.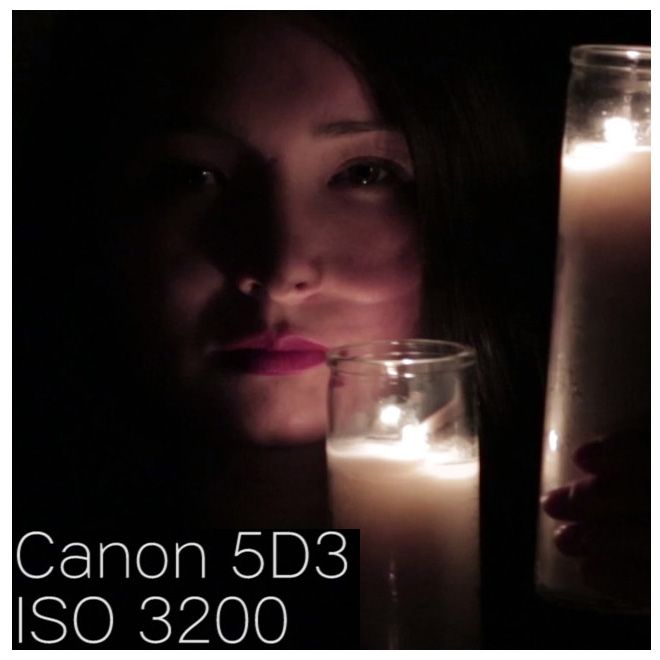 Shot at candlelight, don't forget. In this extreme settings the NEX 7 can no longer compete with the EOS 5D Mark III. Read Mike's post clicking here (more samples provided).
Next let's see how ISO performance is on the Nikon D800. Nikon put a 36MP sensor in its new full-frame flagship and we all want to know how it compares to the 5D Mark III (click here for a previous posts about this issue). quesabesde reviewed the 5D Mark III and did a quick comparison with the D800 (Google translated). I want to focus on ISO performance, so I do not discuss the review (which comes with lots of samples, RAW included). Fortunately, they also provide samples for comparing ISO performance of the two cams. As usual, anyone has to judge by itself but I want you to have a look at this comparison chart. To me ISO performance looks generally better in the 5D Mark III pics and becomes visibly superior with ISO 25600. There are more samples, scroll down the post on quesabesde to see them.
I found another comparison, this time between the 5D Mark III, and Nikon's D4 and D800. Check carefully from ISO 1600 upwards – The 5D Mark III has better ISO performance.
There are for sure applications where the high-res sensor of the Nikon D800 gives you an advantage, e.g. studio settings. The EOS 5D Mark III, on the other hand, is a true multi-purpose camera, which adapts to many different situations. ISO performance, the advanced AF system, 6 fps, and the great video performance, give more advantages than having a 36Mp sensor. That's probably one of the reasons wedding photographers like the 5D Mark III so much. Ok, it costs around 15% more, but for me the overall performance costs that come with the high-res sensor are more incisive. But this are just my two cents.

Automatic EOS 5D Mark III price check: Amazon, B&H, Adorama, Canon USA, J&R, Digitalrev, eBay, rent it at Borrow Lenses
Sample pics and eBay deals live-ticker click here.
World-wide order and price check:

Australia: Amazon, Adorama, B&H, Digitalrev, eBay.au
Austria: Amazon.at, DigitalRev, eBay.at
Belgium: Amazon UK, DigitalRev, eBay.be
Canada: Amazon.ca, DigitalRev, Adorama, B&H, eBay.ca
China: Amazon.cn, Digitalrev, eBay
Denmark: DigitalRev, eBay
Finland: DigitalRev, eBay
France: Amazon.fr, DigitalRev, eBay.fr
Germany: Amazon.de, DigitalRev, eBay.de
Hong Kong: Amazon, Adorama, Digitalrev, B&H, eBay
Ireland: Amazon.uk, DigitalRev, eBay.ie
Italy: Amazon.it, DigitalRev, eBay.it
Japan: Amazon.jp, Rakuten, DigitalRev, eBay
Netherlands: Amazon, DigitalRev, eBay.nl
Norway: DigitalRev, eBay
Poland: DigitalRev, Redcoon.pl, eBay
Singapore: B&H, Adorama, Digitalrev, eBay
Spain: Amazon.es, DigitalRev, Redcoon.es, eBay.es
Suisse: Amazon.de, DigitalRev, eBay.ch
Sweden: DigitalRev, eBay
Thailand: Amazon, DigitalRev, B&H, Adorama, eBay
United Kingdom: Amazon.uk, Warehouseexpress, DigitalRev, eBay.uk
USA: Amazon, B&H, Adorama, Canon USA, J&R, Digitalrev, eBay, rent it at Borrow Lenses