Did Nikon use a 5D Mark II to shot its promo videos
[thanks to our reader RaviSun3D]
Nikon is going to launch the D800 on March 7th and, well, it seems they used a 5D Mark II to shot some of the promo videos. That's what appeared on a Photography group on Facebook.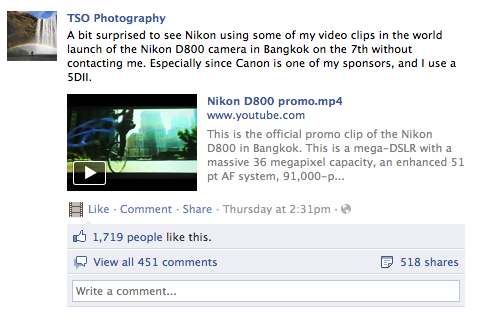 Read the whole story clicking here.
Btw, after the announcement of the 5D Mark III there are lots of price drops for the 5D Mark II (more about this in a later post). Canon 5D Mark II price check: B&H Photo, Adorama, Amazon USA, Amazon Canada, Canon Canada, Canon USA.
EDIT: check our PicDroid (click here) for the latest pics shot with a G1X and uploaded to Flickr, and click here for EOS 5D Mark II pics.
eBay live-ticker with possible deals below


[via RaviSun3D,
SD
] [shariff]