10 Canon 400mm Lenses Used To Detect The Faint Structures Of The Universe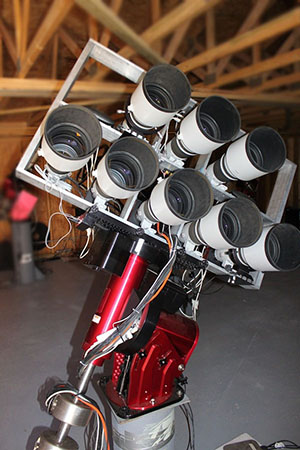 The Dragonfly with 8 lenses mounted – image © Dunlap Institute for Astronomy and Astrophysics
Thanks Chris
Dragonfly is a project by the Dunlap Institute for Astronomy and Astrophysics in Toronto, Canada. It consists in a multi-lens array designed for ultra-low surface brightness astronomy at visible wavelengths. It uses 10 commercially available Canon 400mm lenses. The lenses in the picture above seem to be Canon EF 400mm f/5.6L USM lenses.
The project was commissioned in 2013. The lens array should be capable of detecting the obscure and utterly complex structures that can be found around a galaxy:
According to Cold Dark Matter (CDM) cosmology, structure in the Universe grows from the "bottom up", with small galaxies merging to form larger ones. Evidence of such mergers can be seen in faint streams and filaments visible around the Milky Way Galaxy and the nearby M31 galaxy.
Dragonfly is used to find those structures. How does it work?
Dragonfly is designed to reveal the faint structure by greatly reducing scattered light and internal reflections within its optics. It achieves this using ten, commercially available Canon 400mm lenses with unprecedented nano-fabricated coatings with sub-wavelength structure on optical glasses.
The Dragonfly project is funded by DAA Prof. Roberto Abraham's NSERC Discovery Grant, with initial funds provided by the Dunlap Institute and Yale University, and an NSERC equipment grant awarded in 2013.
For more information head over to the Dunlap Institute's site.