Canon EXPO 2015 New York Lives On In An Interactive Website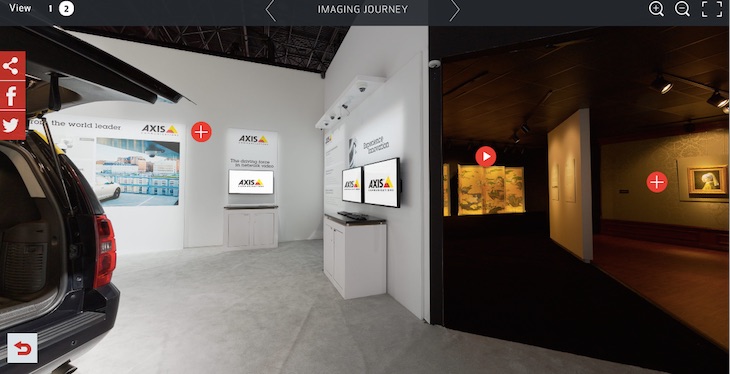 We anticipated it a few days ago, now Canon made it official. The Canon Expo 2015 lives on in a virtual and interactive microsite.
All Canon Expo 2015 coverage on Canon Watch.
Canon EXPO 2015 New York Lives On In An Interactive Website
Company Launches First-Ever EXPO Virtual Tour to Provide an Insider's Look into the Future of Imaging Technology
MELVILLE, N.Y., September 17, 2015 – Although Canon EXPO 2015 New York may be over, Canon U.S.A., Inc., a leader in digital imaging solutions, today announced that it will extend the excitement to those unable to attend, via the first-ever virtual tour on the Canon EXPO Website. This site will provide rich online content that recaps being at the company's five years in the making EXPO, recently held September 10-11 at the Jacob K. Javits Convention Center in New York City.
Revealing Canon's vision into the future of imaging technology, Canon EXPO 2015 New York featured more than 100,000 square feet of exhibition space, showcasing a combination of current and future Canon products and highlighted how powerful and innovative imaging technologies enhance homes, universities, businesses, hospitals, stadiums, movie sets and more.
Andy Slawetsky, with Industry Analysts, said of his first-hand experience at EXPO, "Canon is one of the largest annual patent recipients in the world and attending a show like this is just awesome. Technology everywhere. While I really only focus on a small part of Canon's portfolio, it's a treat to see everything they do under one roof."
Visit the Canon EXPO website for a virtual tour including:
The Stadium Zone, an impressive recreation of Yankee Stadium, where visitors can find information on the cameras and lenses professionals choose to capture the action and bring memorable events to life.
The Imaging Journey Zone highlights the evolution of imaging including a 4K projector capable of 8K projection, under development, as well as museum quality printing technology.
The Professional Printing Zone provides visitors with information on a range of large format printers including the Oc' Arizona Series flatbed printers, the Oc' varioPRINT i300, and the award-winning Canon imagePRESS C10000VP Digital Press, which sets a new quality benchmark in its class by delivering robust productivity of up-to-100 images per minute.
The Home Zone allows visitors to experience modern home imaging solutions for the always-connected generation.
The Enterprise Zone shows how Canon supports businesses worldwide and spotlights Canon's new Rich Collaboration System, an innovative communication platform under development, allowing businesses to connect virtually to enhance communication.
The Film Production Zone highlights new ways to help professional storytellers bring their visions to life. Cinematographers, videographers, photographers, production companies, broadcasters and networks can benefit from Canon innovations designed to achieve greater levels of depth, detail and dimension.
The Customer Experience Zone provides access to information on Canon's Live Learning programs, professional imaging services as well as its commitment to top-notch customer service.
The University Zone demonstrates ultra-high zooming capabilities when utilizing a 250 megapixel CMOS sensor as well as optical technology behind the Subaru Telescope.
The Advanced Industry Solutions Zone features a glimpse into Canon's MREAL Solution demonstrations.
Canon EXPO will visit Paris and Tokyo later in 2015 and Shanghai in 2016.
For more information visit: Expo2015NY.com/virtualtour
About Canon U.S.A., Inc.
Canon U.S.A., Inc., is a leading provider of consumer, business-to-business, and industrial digital imaging solutions to the United States and to Latin America and the Caribbean (excluding Mexico) markets. With approximately $31 billion in global revenue, its parent company, Canon Inc. (NYSE:CAJ), ranks third overall in U.S. patents granted in 2014† and is one of Fortune Magazine's World's Most Admired Companies in 2015. Canon U.S.A. is committed to the highest level of customer satisfaction and loyalty, providing 100 percent U.S.-based consumer service and support for all of the products it distributes. Canon U.S.A. is dedicated to its Kyosei philosophy of social and environmental responsibility. In 2014, the Canon Americas Headquarters secured LEED® Gold certification, a recognition for the design, construction, operations and maintenance of high-performance green buildings. To keep apprised of the latest news from Canon U.S.A., sign up for the Company's RSS news feed by visiting www.usa.canon.com/rssand follow us on Twitter @CanonUSA. For media inquiries, please contact [email protected].
###
† Based on weekly patent counts issued by United States Patent and Trademark Office.
All other referenced product names, and other marks, are trademarks of their respective owners.