Recsea underwater housing for Canon EOS 7D Mark II announced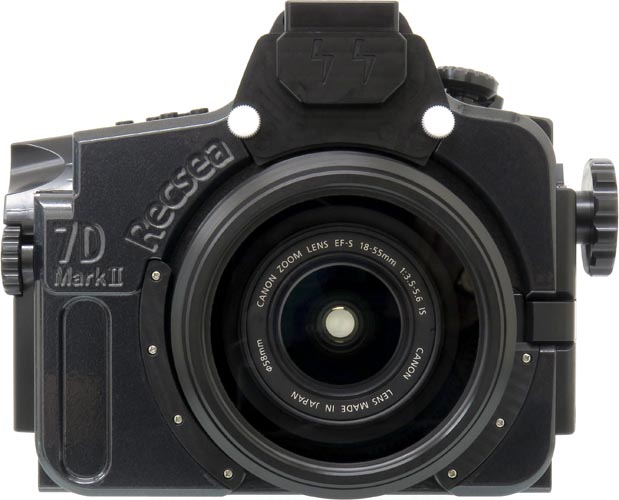 Recsea announced an underwater housing for the EOS 7D Mark II, the Recsea RDH-C7DMkII will cost $2,880 without and $3,260 with fixed dual grip.

Press release (via Dive Photo Guide):
Recsea announces CANON EOS 7D Mark II UW Housing RDH-C7DMkII
FEATURES
Compact and durable, CNC precision machined corrosion-resistant aluminum housing.
Lightweight, ergonomically designed.
Housing Maximum Operating Depth (MOD) of 100 meters (328 feet), depending on Lens Port.
Shutter Trigger.
Built-in Camera Fixing Plate.
Airlock Vacuum Valve.
Rear Control Dial with push button function.
RECSEA original Secure-Latch locking system for easy opening and closing.
Dual Housing Port to Lens Port O-ring system.
Quality silicone O-ring with wider Back Cover contact surface for added protection at greater depths.
Complete camera function control.
Wide variety of optional Lens Ports, Focus and Zoom Gears, and other supported options.
SPECIFICATIONS
Compatible Camera: CANON EOS 7D Mark II.
Maximum Depth: 100 meters (328 feet).
Material
Main Body and Back Cover: Corrosion-resistant Aluminum Alloy, Anodized Lever. Buttons, Dials: POM, PC. Flash, LCD Windows: Hard Coat Acrylic Flash Window Diffuser: Polycarbonate (POM). Screws, Springs, Shafts: Stainless Steel, Galvanized
Dimensions
W201mm x D116mm x H162mm (Housing only).
Weight:
1.860kg (Land / Housing only)
2.433kg (Land / Housing w/Aluminum Fixed Dual Grip)
2.206kg (Land / Housing w/POM Fixed Dual Grip)
Standard Color: Gun Metallic Zero-VOC Enamel Coating.
Included Accessories
Hand Strap, Strobe Mask/External Strobe Connection Mount and Screws x 2, Housing Port Cover, Reserve O-rings (1 Main Body and 1 Housing Port), O-ring Removal Pick, O-ring Grease