5DayDeal Time: Save Big On Learning Material And Contribute To Charity ($2200+ for $89)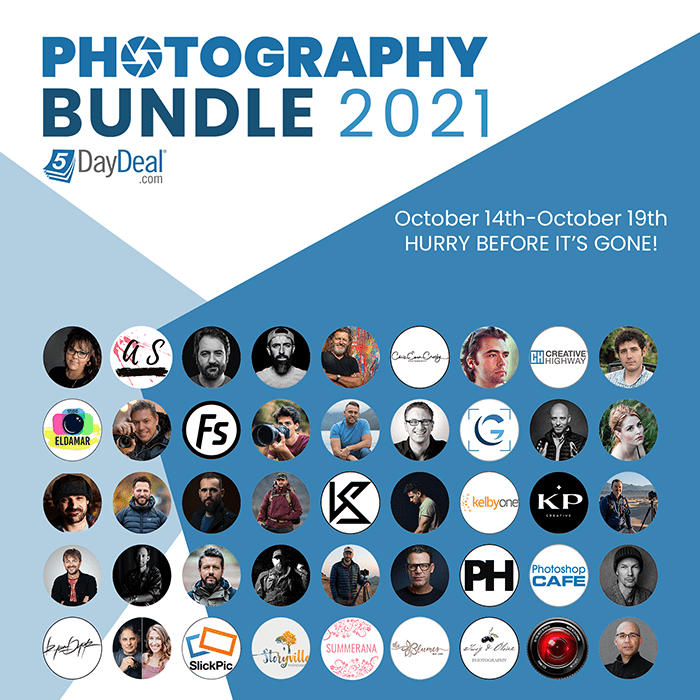 This year again we are happy to feature the 5DayDeal. You can save really big on courses and learning material about photography, and also contribute to make the world better by helping charities.
You get $2,200K+ in value sold for only $89, but only for the next 5 days. Here is what you get in the main bundle and in the other bundles that you can purchase with huge discount.
| | | | |
| --- | --- | --- | --- |
| Title | Partners | Bundle Association | Retail Value |
| Painterly Portraits Photography Course | Amanda | Main Bundle | $227.00 |
| Light and Shadow | Christopher ODonnell | Main Bundle | $129.00 |
| Nature Love Presets | Gamander López | Main Bundle | $69.00 |
| Composition Made Easy Chapter 3 | Gavin Hardcastle | Main Bundle | $49.00 |
| Lumenzia | Greg Benz Photography | Main Bundle | $39.00 |
| JD Beautiful World Tints | Jessica Drossin | Main Bundle | $119.00 |
| The Art of the City Photography | Jimmy McIntyre | Main Bundle | $69.00 |
| KelbyOne Bundle | KelbyOne | Main Bundle | $111.00 |
| Mastering Black and White Landscape Photography | Mads Peter Iversen | Main Bundle | $79.00 |
| Unlock the Power of Lightroom Range Masks | Mark Denney | Main Bundle | $49.99 |
| Blume Wedding Email Templates | Phillip Blume | Main Bundle | $79.00 |
| Simple & Intermediate Object Removal in Photoshop | PHLEARN | Main Bundle | $59.98 |
| Colin Smith's Action Pack | Photoshop CAFE | Main Bundle | $99.99 |
| Luminar AI Magic | Piet Van den Eynde | Main Bundle | $99.00 |
| Mastering Luminosity Masks II | Nick Page | Main Bundle | $59.00 |
| Florida Skies | Serge Ramelli | Main Bundle | $97.00 |
| 1 Year SlickPic Portfolio Account (For NEW Customers Only) | SlickPic | Main Bundle | $155.40 |
| Glamourana Action Collection & Midnight Fireworks Bundle | Summerana | Main Bundle | $99.98 |
| Landscape Photography Secrets Bundle | Tim Shields | Main Bundle | $297.00 |
| Capture One Deep Dive II – with Troy Miller | TWiP This Week in PHOTO | Main Bundle | $197.00 |
| 1 Year VAULT Membership | Creative Highway | Main Bundle | $48.00 |
| | | | |
| Styles pack for Capture One Pro | Antonio Prado | Pro Bundle | $82.00 |
| Luminosity Masks for Landscape Photography | Christopher ODonnell | Pro Bundle | $129.00 |
| Macro Photography | Don Komarechka | Pro Bundle | $32.99 |
| Portrait Retouching – Capture One and Photoshop | Fstoppers | Pro Bundle | $99.99 |
| Photo Planning with PhotoPills | GreyLearning | Pro Bundle | $99.00 |
| JD Wuthering Heights Textures | Jessica Drossin | Pro Bundle | $39.00 |
| Exposure Blend Like An Expert Course | Jimmy McIntyre | Pro Bundle | $44.99 |
| Shaping Light | Joshua Snow | Pro Bundle | $64.99 |
| More Brides II | Mark Condon | Pro Bundle | $98.00 |
| 10 Composition Elements to Look for in a Landscape Scene | Nigel Danson | Pro Bundle | $99.00 |
| The Headshot Intensive ONLINE | Peter Hurley | Pro Bundle | $250.00 |
| Advanced Object Removal in Photoshop | PHLEARN | Pro Bundle | $29.99 |
| ARTISTRY5 | Photography BB | Pro Bundle | $125.00 |
| Atmosphere | Ryan Dyar | Pro Bundle | $59.00 |
| Conceptual Fine Art Photo Artistry | Sebastian Michaels & Brooke Shaden | Pro Bundle | $197.00 |
| | | | |
| | | | |
| Ultimate Vibrancy Pack | Alexander | Charity Bundle | $96.00 |
| The Vital Role of Contrast | Bryan Peterson | Charity Bundle | $99.99 |
| Elephant Milky Way & Yosemite Window of Light Tutorials | Chris Ewen Crosby Photography | Charity Bundle | $100.00 |
| Photoshop Sunset Workflow | Chris Ewen Crosby Photography | Charity Bundle | $60.00 |
| Ultimate Brush Pack | Kaiwan Shaban | Charity Bundle | $29.99 |
| New Post IG Story Template | Karlie Place | Charity Bundle | $97.00 |
| Photoshop User Magazine – 6 Issues | KelbyOne | Charity Bundle | $59.70 |
| Creative Photography Using Lightroom Color Wheels | Mark Denney | Charity Bundle | $44.99 |
| Storyville's Overlay Pack | Storyville Photography | Charity Bundle | $97.00 |
| The Fernweh North and South Preset Collection | Twig & Olive | Charity Bundle | $100.00 |
| | | | |
| | | | |
| 10000+ Cinematic Photo Overlays Bundle | Eldamar Studio | Bonus Bundle | $99.00 |
| Photoshop for Morons | Gavin Hardcastle | Bonus Bundle | $59.00 |
| Lightroom: Profiles Curves & Presets | Jared Platt | Bonus Bundle | $105.00 |
| Master the Night Sky Course | John Weatherby | Bonus Bundle | $98.00 |
| Erupt | Joshua Snow | Bonus Bundle | $49.99 |
| Ultimate Photography Overlays Bundle | Kaiwan Shaban | Bonus Bundle | $75.00 |
| Light Contouring | Ryan Dyar | Bonus Bundle | $59.00 |